Family release images of missing ex-FBI man Levinson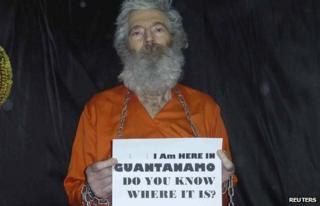 The family of missing retired FBI agent Robert Levinson have released images of him to try to increase pressure on the investigation into his whereabouts.
Mr Levinson went missing during a business trip on the Iranian island of Kish in March 2007.
The images, sent to the family in April 2011, show Mr Levinson in an orange jumpsuit and holding up signs.
His wife called for more pressure on Iran, but Iran insists Mr Levinson is not in the country.
'Help me'
The pictures released by the family show Mr Levinson in a long grey beard, wearing a chain around his neck and hands.
The jumpsuits are similar to those worn by detainees at the US Guantanamo Bay detention facility in Cuba.
Mr Levinson, 64 when he went missing, is shown holding up five signs that read:
4th YEAR... You can't or you don't want...?
This is the result of 30 years serving for USA
Why you can not help me
I am here in Guantanamo - Do you know where it is?
Help me
The family were also sent a video in November 2010, which it released in December 2011 to try to boost the investigation.
In the 54-second clip, Mr Levinson pleads: "Help me get home."
Secretary of State Hillary Clinton said in March 2011 that Mr Levinson was possibly in the hands of a terrorist or criminal group in Pakistan or Afghanistan.
But Mr Levinson's wife, Christine, told the Associated Press news agency that there had not been "any pressure on Iran to resolve this", adding: "It's been much too long."
Investigators traced the phone used to send the photographs to Afghanistan, but the owner was not involved. The video was sent from a Pakistan internet cafe but also revealed no clues.
"We assumed there would be some kind of follow-up and we didn't get any," Mrs Levinson said. "After those pictures came, we received nothing."
She added: "He's a good man. He just doesn't deserve this."
AP news agency quoted Alireza Miryusefi, a spokesman for Iran's UN mission, as saying that Tehran had hosted a trip to the country by the Levinson family.
"Further investigation proved that Levinson is not in Iran and there is no single evidence that he is in Iran," he said.
The FBI offered a $1m (£624,000) reward in March 2012 for information leading to Mr Levinson's safe return.