Batman suspect James Holmes 'set booby-traps' in flat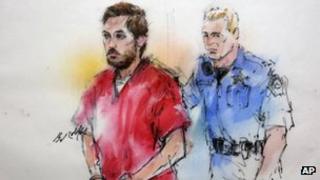 The man accused of a shooting massacre at the midnight premiere of a Batman film last year laid incendiary booby traps in an effort to divide police resources, an FBI agent has testified.
James Holmes, 25, rigged traps to burn his own flat when triggered, a Colorado court heard in pre-trial testimony.
Prosecutors argue the attack was pre-meditated, while defence lawyers say the suspect was mentally ill.
Twelve died and 58 were wounded at the shooting in Aurora, Colorado in July.
The testimony from FBI agent Garrett Gumbinner in Centennial, Colorado, comes as part of a pre-trial hearing, due to last all week, to establish whether prosecutors have enough evidence for the case to proceed to trial.
"He said he rigged the apartment to explode to get law enforcement to send resources to his apartment instead of the theatre," Mr Gumbinner told the court, ABC News reported.
The agent was one of two detectives who interviewed Mr Holmes on the afternoon after the shooting.
Emergency calls heard
The booby traps, meticulously laid at the suspect's home, were never triggered.
Before leaving the flat on the night of the shooting, the suspect set his computer to play 25 minutes of silence followed by loud music to create a nuisance and draw a response, Agent Gumbinner said.
Inside, the flat was rigged with a tripwire connecting the front door to chemicals that, when mixed, would spark a fire, he testified.
Mr Holmes rigged a fuse between three glass jars filled with a potent chemical mixture that would burn at such a high temperature that it could not be put out with water, he said. The carpet had been soaked with petrol.
A further detonation system was planted outside the building, Mr Gumbinner testified.
On the second day of the hearing, the court also heard two emergency phone calls placed from the cinema the night of the shooting.
In one recording, a 13-year-old girl can be heard telling a dispatcher that her six-year-old cousin had been shot as the dispatcher tried to tell her how to perform cardiopulmonary resuscitation.
Veronica Moser-Sullivan, the young girl, was the youngest victim of the attack.
Mr Holmes, who was present for the hearing, sat in red prison dress with a blank expression throughout the proceedings, witnesses said.
Correspondents say that pre-trial hearings can sometimes lead to discussions about plea deals.
At the time of the shooting, Mr Holmes was a graduate student in neuroscience at the University of Colorado at Denver, but was withdrawing from his studies after failing a key exam.
The attack, which took place at the premiere of the new Batman film in Aurora, was one of the worst mass shootings in US history.
The hearing comes one month after 20 children and six adults were massacred at a Connecticut primary school. That incident has reignited debate over gun control in the US.