Oikos University accused One Goh unfit for trial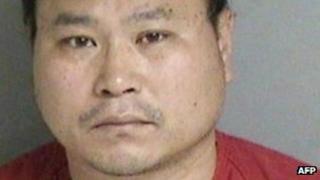 A man accused of killing seven people at a California Christian college has been deemed mentally unfit for trial.
Former Oikos University nursing student One Goh is alleged to have carried out the attack in Oakland in April 2012.
A judge accepted a defence argument that Mr Goh - who has pleaded not guilty - suffers from paranoid schizophrenia.
The Oikos shootings were the deadliest on a US campus since a gunman killed 32 people at Virginia Tech in 2007.
Judge Carrie Panetta ruled that Mr Goh should be sent to a California mental institution until he is competent to stand trial, with a review every 90 days.
At an earlier hearing, Mr Goh's lawyer, David Klaus, questioned his ability to stand trial, saying that the 43-year-old had suffered from schizophrenia for several years.
Mr Klaus and a fellow lawyer, both court-appointed, say they have had trouble talking with Mr Goh because of his mental state.
Prosecutors said Mr Goh was angry about being denied a tuition fee refund when he arrived at the college with a .45 calibre weapon.
Mr Goh is charged with seven counts of murder and three counts of attempted murder for allegedly opening fire after he was unable to find a school administrator.
At the time of his arrest, police documents said Mr Goh confessed to a security guard at a grocery store after he fled in a car.
However, a month later, Mr Goh pleaded not guilty in the Alameda County court.