Aurora suspect James Holmes was 'relaxed' during arrest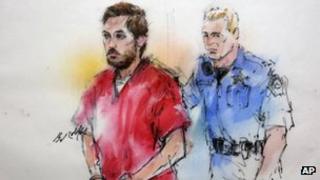 The man accused of killing 12 people and wounding 58 at a cinema in the US state of Colorado in July was "relaxed" when arrested, a court has heard.
Police Officer Jason Oviatt described James Holmes, 25, as "detached" during testimony at a pre-trial hearing.
The hearing, due to last all week, will establish whether the prosecution's case is strong enough to go to trial.
The suspect is charged with more than 160 counts, including murder and attempted murder in Aurora.
The hearing represents the first extensive disclosure of evidence in the case.
Three days after the attack, District Judge William Sylvester barred lawyers and investigators from talking about the case publicly, and many documents have been sealed.
Several survivors and relatives of the victims were present in court for the hearing.
'No normal reactions'
Witnesses described to the court the scene outside the cinema on the night of the shooting.
They said that Mr Holmes, who was seen near his car behind the cinema, did not resist arrest and had voluntarily revealed to police that his apartment had been booby-trapped.
"He seemed very detached from it all," Officer Oviatt told a judge at the hearing in Centennial, Colorado, referring to James Holmes.
He was seen wearing body armour, and did not appear to have "normal emotional reactions", the officer added.
Officer Oviatt said he spotted the suspect standing beside his car, behind the cinema. First he thought the alleged gunman was another officer but then he noticed the man was not rushing towards the cinema.
During a search, police found two knives and a semi-automatic handgun on top of the suspect's car.
The officer also testified that a round of ammunition fell out of the suspect's pocket and that he found another round on the floor.
A second officer, Aaron Blue, told the court the suspect was fidgeting in the back seat of the police car, leading them to search him for a second time.
Correspondents say that pre-trial hearings can sometimes lead to discussions about plea deals.
At the time of the shooting, Mr Holmes was a graduate student in neuroscience at the University of Colorado in Denver, but was withdrawing from his studies after failing a key exam.
The attack, which took place at the premiere of the new Batman film in Aurora, was one of the worst mass shootings in US history.
The hearing comes one month after 20 children and six adults were massacred at a Connecticut primary school. That incident has reignited debate over gun control in the US.