Capt Kirk actor tweets Canadian astronaut Chris Hadfield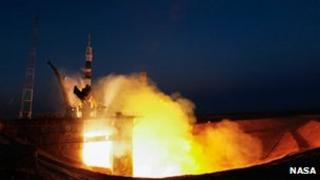 Canadian astronaut Chris Hadfield has exchanged tweets from space with William Shatner, who played Captain Kirk in Star Trek.
When Shatner asked if Cmdr Hadfield was tweeting from space, the astronaut replied: "Yes, Standard Orbit, Captain. And we're detecting signs of life on the surface".
The message presumably refers to earth.
Cmdr Hadfield arrived at the International Space Station on 21 December for a five-month mission.
The exchange, which astronaut Buzz Aldrin also participated in, delighted Star Trek fans.
Space and science blogger Jason Major tweeted: "Looks like @WilliamShatner has opened a hailing frequency to the #ISS and @Cmdr-Hadfield answered! #cool", in reaction to the Twitter exchange.
Cmdr Hadfield has been tweeting images of earth, including photographs of snow-covered rice fields in Japan and the coast of Italy.
The Canadian Space Agency has offered to arrange a live tweeting session between the actor and the astronaut.