Profile: Chuck Hagel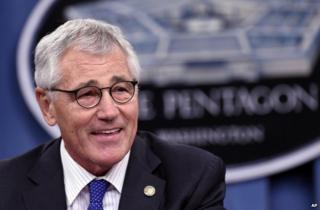 Chuck Hagel, who is resigning as US defence secretary after less than two years in the job, has long had strained relations with the Republican opposition.
He is the first senior official to step down after the Democrats' heavy losses in the mid-term elections this month.
The reason for his resignation is not yet clear.
A senior defence official told the Associated Press news agency that it was "time for new leadership in the Pentagon".
The New York Times said he was the first "cabinet-level casualty" of the mid-term loss of the Senate majority, and linked his departure to the rise of Islamic State militants.
However, a White House official said the president and his 68-year-old defence secretary had been talking about his post since before the elections.
"In October, Secretary Hagel began speaking with the president about departing the administration given the natural post-mid-terms transition time," the unnamed official told the BBC.
Mr Hagel will remain as defence secretary until his replacement is confirmed by the Senate.
Vietnam veteran
Known as a straight-talking maverick, the former Nebraska Republican senator is a decorated war veteran who was appointed to replace Leon Panetta in February of last year after a bitter fight in Congress.
He brought military experience to the job, having served as an infantry squad leader in the Vietnam war, where he was awarded two Purple Hearts, one for saving his brother's life.
---
Chuck Hagel in his own words
On Iran sanctions: Isolating nations is risky... It turns them inward, and makes their citizens susceptible to the most demagogic fear mongering.
On a nuclear Iran: These governments, however hostile they may be toward us, have some appreciation of the horrific results of a nuclear war and the consequences they would suffer.
On the United Nations: [The] only international organization that can help bring the consensus that is indispensable in finding solutions and resolving crises
On the Pentagon: Bloated budgets and lack of effective oversight and review are symptoms of deeper, structural inadequacy in our military posture
From Chuck Hagel's 2008 book, America: Our Next Chapter
---
The horrors of war are said to have shaped his view of military action as a last resort, to be used only after all diplomatic options have been exhausted.
Born in North Platte, Nebraska, Mr Hagel grew up in a poor family, and began working odd jobs from the age of nine to help put food on the table.
Upon returning from Vietnam, he took various jobs, including as a radio reporter, but made his fortune in the fledgling mobile phone industry.
He was elected to the Senate in 1996 and again in 2002, where he rose to become chairman of a panel on the foreign relations committee.
Mr Hagel's strained relations with the Republican party leadership were seen as a reason for his decision not to pursue a White House run in 2008.
Some Republicans had never forgiven him for his strident criticism of George W Bush's administration during the Iraq war.
Though he voted for the resolution authorising the conflict, he went on to become a fierce critic.
Narrowest vote
Mr Hagel was appointed as President Barack Obama's defence secretary in February 2013, following a nomination that was stalled in the Senate by an unprecedented filibuster.
His 58-41 confirmation was the narrowest ever vote margin for a Pentagon nominee.
Lawmakers on the right had voiced concern because Mr Hagel had openly challenged the idea of a US- or Israeli-led military strike against Iran. His support for including Iran in peace talks on Afghanistan had raised eyebrows, too.
Mr Hagel was also lambasted for saying in a 2008 book written by a former state department official that the "Jewish lobby" intimidated lawmakers in Washington. He apologised for that remark during his Pentagon confirmation hearing.
On the left, some had also criticised his remarks about James Hormel, the first openly gay US ambassador, in 1998, in 1998, whom he described as "aggressively" gay. He later regretted that comment.
According to the New York Times report of his resignation, it was "recognition that the threat from the Islamic State would require a different kind of skills than those that Mr Hagel was brought on to employ".
However, Mr Hagel's aides had maintained in recent weeks that he expected to serve his full four years as defence secretary, the paper notes.
In the days before his resignation was announced, Mr Hagel wore a sticking-plaster on his cheek. Asked by reporters why, he said he had had an "incident" with his kitchen cabinet door. "I engaged the corner of a cabinet in my kitchen and it didn't turn out well for me," he said, making light of it.