Maine shootings: Tenants killed in snow-shovelling row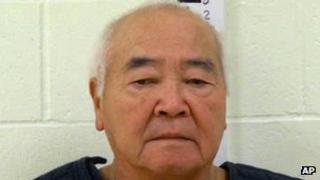 A 74-year-old US landlord has shot dead two teenage tenants after an argument about snow-shovelling, police say.
James Pak walked into the couple's flat attached to his house in Maine, and said he was going to shoot them before carrying out his threat, police said.
He has been charged with murdering 19-year-old Derrick Thompson, and his girlfriend, Alivia Welch, 18.
Mr Thompson's mother, Susan Johnson, survived Saturday's shootings by playing dead after she was shot.
The 44-year-old, who shared the Biddeford flat with the two victims and her six-year-old son, said she had hidden behind a Christmas tree.
Mr Pak allegedly told police he spared the boy's life but thought he had killed the three adults, AP reported.
Police had been called to the home after Mr Thompson reported Mr Pak was threatening him and banging on windows, but they left when the teenager told them he did not fear his landlord.
Moments later, they received a call from Ms Johnson telling them of the shootings.
They had reportedly been arguing over late rent, shovelling snow and parking cars in the drive, police said.
The defendant, a stonemason, is being held without bail after refusing to enter a plea during a court appearance on Monday in York County Superior Court.