Theatrics at the cliff edge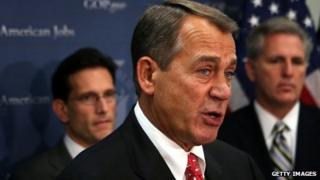 It has become known as the fiscal cliff, but it is more like a mutual suicide pact, agreed in the summer of 2011, in order to force Republicans and Democrats to do a deal to balance the books.
If they don't there will spending cuts so horrendous, tax rises so terrible that no one could allow it to happen. That's the theory anyway.
After all it is not just about the US. The Organization for Economic Co-operation and Development (OECD) says the negative shock could put both the US and the world back into recession.
But there is a wearily familiar pattern. After some fairly serious negotiations, the parties are back to posturing. Today's vote on the Republican leadership's "Plan B' is largely theatrics.
The proposal from the Speaker of the House John Boehner does several things.
It amply demonstrates how difficult it will be for him to come to an agreement with the White House. Many conservatives will not vote for it, because it allows for some tax rises for the better off.
It is a flamboyant way of telling the president "see who I'm dealing with?"
If it passes the House, it also means there is a compromise plan in play.
If the Senate kills it or Obama vetoes it, as he says he would, Republicans must hope the Democrats would get the blame for putting the knife into the only existing proposal.
So it is positioning, theatrics, part of the negotiations, not the negotiations themselves. There are still few days left, and many think a deal will be done, because it has to be done.
But fighting on the edge of a cliff is a dangerous business.