Three arrests in multi-million dollar maple syrup theft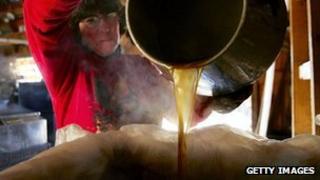 Three people have been arrested for a multi-million dollar maple syrup theft this summer, Canadian police say, but five more suspects remain at large.
They are believed to have sold some of their C$20m (£12.5m) cache in other Canadian provinces and the US.
They may face charges of theft, fraud, conspiracy, and handling stolen goods.
The syrup was stolen from a storage facility in the province of Quebec. Officials noticed empty barrels during an inventory check.
The theft took place at a Federation of Quebec Maple Syrup Producers warehouse in St-Louis-de-Blandford, 160km (100 miles) north-east of Montreal.
The syrup belonged to a co-operative of 7,500 producers in Quebec.
Suspects at large
Vehicles were seized and maple syrup-making equipment has been recovered as a result of the manhunt, Quebec police said.
Authorities are still "actively" searching for five more suspects. More than 300 people have been interviewed over the course of the investigation, the AFP news agency reported.
Some 3.4 million litres of bulk maple syrup was stored in the warehouse, with a value of up to C$30m. Authorities did not reveal exactly how much maple syrup had been stolen.
If the entire warehouse's contents had been taken, it would have represented more than a tenth of Quebec's 2012 harvest, CBC News reported at the time.
The federation also keeps nearly 13m litres in syrup in three warehouses to stabilise global supply and prices.
Maple sap is tapped directly from the sugar maple tree and boiled to concentrate it into maple syrup. Quebec produces three quarters of the world's maple syrup.