Tim Scott to succeed Jim DeMint in South Carolina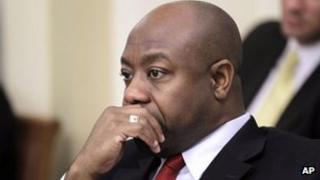 The US state of South Carolina has chosen an African-American man to replace an outgoing senator for the first time in the state's history.
Tim Scott, who currently serves in the House of Representatives, will replace outgoing Senator Jim DeMint in January.
His selection by South Carolina Governor Nikki Haley makes him the first black senator from the South to hold the office since the late 1800s.
Mr DeMint will head the Heritage Foundation, a conservative think tank.
Governor Haley is due to officially announce Mr Scott's selection in a news conference in Columbia, South Carolina later.
Mr Scott, 47, is the only black Republican in Congress and has been supported by the conservative Tea Party movement.
In 2008, he became the first African-American member of South Carolina's state legislature since the Reconstruction era that followed the 1861-1865 civil war.
He has held his seat in the US House of Representatives since 2010, when a wave of conservatives swept into office.
He would become the only African-American member of the Senate.