Newtown shooting: First Connecticut funerals begin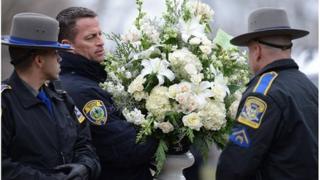 The first funerals have been held for victims of Friday's shootings at a school in the US state of Connecticut.
Noah Pozner and Jack Pinto, both aged six, were the first of those killed at Sandy Hook school to be buried.
Twenty children and six women died in the assault by a lone gunman - named as Adam Lanza - who then took his own life. He had earlier killed his mother.
On Sunday President Barack Obama told residents at a vigil in Newtown the US must do more to protect its children.
He said he would use the powers of his office to prevent a repeat of the tragedy, adding that the nation shared the townspeople's grief.
"We can't tolerate this any more," Mr Obama said. "These tragedies must end and to end them we must change."
Meanwhile, West Virginia Senator Joe Manchin, who supports gun ownership and has been given an "A" rating by the National Rifle Association, told US network MSNBC that it was time to "move beyond rhetoric" on gun control and renew a ban on the sale of assault weapons.
Mr Manchin, a gun owner and frequent hunter, said: "We need to sit down and have a common sense discussion and move in a reasonable way."
Mr Manchin is the first NRA-backed US senator to speak out since Friday's killings.
Sports fan
In Connecticut, Jack Pinto was buried in the Newtown Village Cemetery, and Noah Pozner at the B'Nai Israel Cemetery in the nearby town of Monroe.
The family of James Mattioli, six, is also holding a wake on Monday.
Other victims' funerals will be held throughout the week, and the town has already begun removing Christmas decorations, replaced with makeshift memorials for the victims.
Jack Pinto was described as a sports lover and a huge fan of New York Giants football player Victor Cruz - who wore the boy's name inscribed on his boots during Sunday's game.
At his funeral on Monday, many young children wore Newtown school football shirts.
One mourner, Gwendolyn Glover, told the Associated Press the funeral aimed to reassure others that they were now safe.
"The message was: You're secure now. The worst is over," she said.
Earlier, mourners attended services for Noah Pozner, the youngest victim of the shooting, described by his family as inquisitive and mature for his age.
"If Noah had not been taken from us, he would have become a great man. He would been a wonderful husband and a loving father," his uncle Alex Haller told the Associated Press.
Connecticut Governor Dannel Malloy and Lt Gov Nancy Wyman were both at the funeral, a traditional Jewish ceremony.
In front of the funeral home, well-wishers placed two teddy bears, a bouquet of white flowers and a single red rose at the base of an old maple tree.
His twin sister, Arielle, who was in a different classroom, survived.
Meanwhile, the parents of Jessica Rekos have spoken of their loss for the first time. In an interview with TV network ABC, they said "she was the family CEO, she was the boss". Her funeral takes place on Tuesday.
And the family of Victoria Soto, a teacher killed at Sandy Hook, called her "the queen" of her family as they recalled her in an interview with CBS News.
"She was the best daughter any mother could ask for," her mother, Donna Soto, said.
Victoria's sister, whose shocked expression was captured by a news photographer on Friday and published around the world, said the image already served to renew the hurt.
"It's like a reminder of that moment all over again, and it kills," she said.
Injured victims 'key'
On Monday, Lt Paul Vance said police continued to do everything they could to answer every question about the shooting.
He said that two people who had been wounded but survived the shooting would be key witnesses and would be interviewed at an appropriate time.
Children who witnessed the attack would also be interviewed - in the presence of parents and professionals - Lt Vance added.
Gunman Adam Lanza, 20, did not seem to have had run-ins with the police, he said, and gave no information about whether mental health professionals had come forward with information about him.
Classes in Newtown were cancelled on Monday, and it could be months before Sandy Hook is back under the control of the district because it remains an active crime scene.
The district was making plans to send surviving students to a disused school building in a neighbouring town.
All 20 children who died in the shootings - eight boys and 12 girls - were aged between six and seven, according to an official list of the dead. The school's head teacher, Dawn Hochsprung, was among those killed.
All victims were shot several times, some of them at close range.
Lanza shot his mother -reportedly in the head - before driving to the school in her car, authorities said.
Officials say he was armed with hundreds of rounds of ammunition, and used a semi-automatic rifle as his main weapon. He was also carrying two handguns, and a shotgun was recovered from a car.
Calls for ban
Mr Obama made an appeal for "meaningful action" against gun crime in the US shortly after the attack on Friday.
Sunday saw two senior US Democrats call for stricter gun control.
Connecticut Governor Dannel Malloy said his state had an existing ban on assault weapons, but the lack of a similar law at federal level made it difficult to keep them out of the state.
And Senator Dianne Feinstein, who represents California in the upper house of Congress and is a long-term supporter of stricter gun control, said she would introduce a bill to ban assault weapons.
But opponents of gun control have hit back, saying a ban would be ineffective.
"Having a ban isn't going to make the very people we would like to prevent from having them, [stop] having them," Independent Firearm Owners Association president Richard Feldman told the BBC.
"They are already owned by tens of millions of people. What is the government planning to do? Come and get the guns? I don't think so."