Newtown shootings: Obama calls for 'change' on gun laws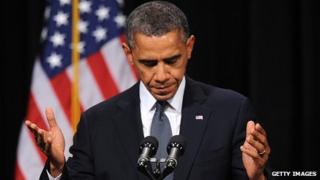 President Obama's speech began with words of comfort for the grief stricken people of Newtown.
He told them not to lose heart, said they were inspiring people and promised them that they were not alone.
He was speaking in the auditorium of the high school in Newtown. The room seats 900 and it was full to capacity.
Families of the victims were in the audience and many were children.
He spoke after a series of religious leaders had addressed the room. Clergymen and women quoted from scripture; a Rabbi sang a mournful memorial song, a young Muslim boy, barely able to reach the microphone, recited a prayer in Arabic.
Conflicted
In a room full of such emotion and sorrow, the president could have just offered support to the town and played the part of healer-in-chief.
Instead, he issued his country with a challenge. "We must change," he said.
His voice full of passion, he said that America "can't tolerate" any more gun massacres, reminding the audience that this was now the fourth time during his presidency that the nation had consoled a community in the wake of a mass shooting.
He asked: "Surely we can do better than this?"
Signalling that he wants to try to change America's gun laws, he said that he would "use whatever power this office holds to engage my fellow citizens in an effort aimed at preventing more tragedies like this".
At a restaurant in Sandy Hook, just a few minutes walk from the elementary school where the massacre took place, a packed room watched the president on television in complete silence.
Afterwards, Seth Greenberg, a high school teacher from a town nearby, said he liked what he had heard and said he was relieved that the president had not been too political.
Seth is a high school teacher who feels conflicted on the issue of gun control.
He does not want to see any more gun tragedies and was appalled that the gunman, Adam Lanza, had managed to get his hands on his mother's powerful assault rifle.
But, asked if he supported a toughening of the laws, he paused. "It's not about guns," he said, "but the people that have access to them. The right to have guns is written into the constitution and you take that away, that's like taking away the 10 commandments."
'Too many times'
Over the road from the restaurant there is an ice cream parlour. It is called Heaven because, says owner Ray Ruzek, people are happy when they come inside.
But they were not selling ice creams on Sunday. Instead, they held a prayer meeting.
Outside, on the parlour's front lawn, Greg Zandis was erecting a memorial. It consisted of 26 white wooden crosses that were about four feet high that he had made back home in Illinois. On each one he was writing the names of the victims in black felt tip. '
"I have had a busy year," he said. Greg has taken his homemade crosses to the scenes of each of America's recent mass shootings.
Asked if he thought guns needed to be subject to more controls he shook his head: "The problem isn't with the guns, it's that God has been taken out of people's hearts."
It is not the only memorial to have been created in Sandy Hook.
A makeshift shrine, full of brightly-coloured candles, flowers and toys swells below the town's Christmas tree.
But lots of people have chosen to gather at another shrine outside the school.
Many have travelled from out of state, like the 11 Sikhs from New York, who bowed their heads and prayed for the souls of the dead.
One of those praying was Avatar Singh who said they had decided to come as soon as they heard of the shooting.
"The Sikh community feels very sad," he said.
A Sikh temple in Wisconsin came under attack from a gunman in August and six people were shot dead.
"This," he said, "has happened too many times."