Newtown grieves after Sandy Hook school shooting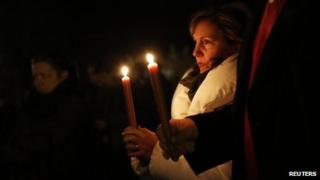 Sandy Hook, Newtown is the quintessential New England village - and the very picture of the American dream, exuding prosperity, a strong sense of community, and security.
Now that 20 of its elementary schoolchildren have been murdered in their classroom by a gunman on a rampage, that sense of security has been shattered. So many people shared the same sentiment with me - we never thought it could happen here.
Outside the Catholic St Rose Church of Lima, where a vigil was held for the dead, hundreds who couldn't get in for the service stood outside, straining to catch what was said.
Twenty-six candles for the killer's victims at the school burned brightly, as parents hugged their children, their eyes bright with tears.
People who couldn't get into the church stood in a circle, holding hands and singing Amazing Grace and Away in a Manger.
Impromptu prayers for the dead were said. One man whose daughter was inside the school when the killings took place watched her play happily with her siblings.
The child was smiling; the father was unable to speak. A teenager who lost his younger brother was comforted by a friend.
'New saints'
In a scene of unbearable poignancy, the manger in the wooden nativity scene outside the church was empty, awaiting Christmas Day for the baby Jesus to be placed inside. People passing the crib wept for the dead children who will never celebrate another Christmas.
Msgr Robert Weiss, pastor of the church, told reporters 20 stars were shining brightly in the skies, and that 20 new saints had been created.
Several of the dead children were his parishioners - he spoke of one boy who had just scored his first goal in football, to the joy of his parents. The pastor warned that grief would turn to anger at what had happened.
In the lobby of the church, people wrote on commemorative boards - God bless our newest angels, read one message.
Newtown's homes are decked out for Christmas - as a town tries to understand the incomprehensible, and parents of the dead face an agonising void.