Newtown school shooting: Witnesses recount horror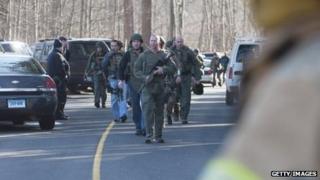 Twenty-seven people, including 20 children and the gunman, have been killed in a mass shooting in Newtown in the US state of Connecticut.
The deadly toll makes it one of the worst US school shootings, a grim list topped by the 32 people killed at Virginia Tech in 2007.
State police say the gunman died at the scene. He has been described as in his 20s and with links to the school.
Here are some accounts from witnesses:
Mother and son
Son: I saw some of the bullets going past the hall that I was right next to and then a teacher pulled me into her classroom.
Mother: I'm just so grateful to the teacher who saved him.
Reporter: You think the teacher saved his life?
Mother: She definitely did. He had bullets going by him and she grabbed him and another child and pulled him into a classroom.
Colleen Durkin
I work down the street from the school in a local toy store. I've seen 40-50 state police turn up at the school. The FBI are also present. The police requested as many ambulances as possible.
It's now a non-active scene but I hear that, as the police work their way through the school, they are finding further bodies. I've left work now and am returning home.
Richard Wilford
You get an alert that more or less schools are locked down, there's been a shooting.
I didn't know what that meant. I called the police department, they did tell me that the shooting was at Sandy Hook. That's when my wife and I rushed down and came to the school.
There's no words that I could come up with that would even come close to describing the sheer terror of hearing that your son is in a place or your child is in a place where there's been violence.
You don't know the details of that violence, you don't know the condition of your child and you can't do anything to immediately help them or protect them. It is a powerless and terrifying experience.
[My son] heard loud noises. He described it as... the sound of, like, pans falling. His teacher went and checked. She closed and locked the door. They went into a corner until they were recovered by the police.
Unidentified mother
A friend of mine said that a masked man came in and just started shooting. I don't know how he came in because every time you go in you have to ring a bell and they can see you from the office and they know who you are and they let you in.
So I don't know if it's somebody they knew.
Her child
When we were gone during morning meeting we heard shots and everybody went on the ground and Miss Martin closed the door and we went to the corner.
Christian Witschy
I'm a teacher in a nearby town. This is shocking and terrifying. We always think this can't happen near us - we aren't in Colorado or Texas - but it's proof that we have a scary world right now.
My boss's wife is a teacher at Sandy Hook. She is safe, thank God.
No-one knows exactly what has happened - we are so shocked.
I'm still at school now, the children have gone home but I teach kids of the same age as those at Sandy Hook.
We had to calm the kids down at our school when we heard about the shooting. The kids are leaving now. They knew about it, especially the older ones.