Quebec senior police officers in payments probe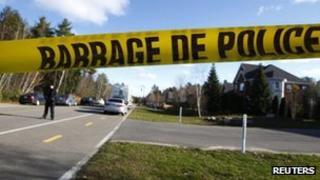 Quebec says it is investigating three former high-ranking provincial police officials for using an investigative police fund to pay severance bonuses.
Officials in the Canadian province did not reveal identities, but reports said Richard Deschenes, a former provincial police director, was one of the three.
A team of retired police officers will lead the inquiry.
The move comes after the recent resignation of two Quebec mayors over corruption allegations.
Gerald Tremblay, mayor of Montreal, and Gilles Vaillancourt, mayor of Laval, both stepped down amid allegations related to the construction industry.
'Breach of trust'
On Wednesday, Public Security Minister Stephane Bergeron told reporters that the allegations against the three police officials first appeared when Mr Deschenes' replacement, Mario Laprise, discovered that money was unaccounted for.
Mr Deschenes, named along with Jean Audette, the former head of criminal investigations, and Steven Chabot, former assistant director of criminal investigations, are suspected of improperly using a secret police fund set aside for paying informants and undercover police drug deals.
The men are alleged to have used the fund to pay for severance bonus.
"If these allegations are substantiated it would constitute a breach of trust and fraud under the criminal code," Mr Bergeron said. His spokeswoman said legal action would taken if it is shown public funds were misused.
Mr Bergeron would not name anyone who benefited from the alleged bonus.