Fiscal cliff: Obama and Boehner make new offers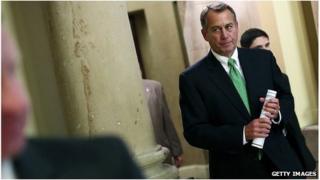 The White House and Republicans in Congress have each made new offers as US negotiations continue in an effort to avoid the so-called "fiscal cliff".
President Barack Obama was reported to have offered to lower his requirement for $1.6tn of new revenue.
On Tuesday, he called House Speaker John Boehner, who is asking for more clarity on possible spending cuts.
Mr Obama, who wants a deal to raise taxes on wealthy Americans, told ABC News he thought he would get his way.
On Wednesday, Mr Boehner said there were still "serious differences" to overcome before both sides would be able to agree to a deal.
"There were some offers that were exchanged back and forth yesterday and the president and I had pretty frank conversations about just how far apart we are," said the top Republican in Congress.
He also advised his fellow Republicans in closed-door meetings at Congress not to make plans for the week after Christmas, in anticipation of last-minute negotiations.
Allowing the combined tax rises and spending cuts that form the fiscal cliff to to take effect could derail the fragile US economic recovery, economists have warned.
'We're broke'
In a White House interview broadcast on Tuesday, Mr Obama said: "I'm pretty confident that Republicans would not hold middle class taxes hostage to trying to protect tax cuts for high-income individuals.
"I don't think they'll do that."
Aides to Mr Obama and Mr Boehner refused to elaborate on the detail of a Tuesday evening phone conversation between the two men. That call came two days after a face-to-face meeting at the White House.
But both sides did confirm that an offer and counter-offer had been exchanged between the two camps in recent days.
"I believe that both Speaker Boehner and myself and the other leaders want to see a deal happen," Mr Obama told ABC.
"And the question now is can we get it done. The outlines, the framework of what a deal should look like are pretty straightforward."
Senate Majority Leader Harry Reid, a Democrat, also said it would be difficult to reach a deal before Christmas.
Mr Reid said on Tuesday that legislation could not be written without details from Republicans.
"Until we hear something from Republicans, there's nothing to draft," Mr Reid said. "It's going to be extremely difficult to get it done before Christmas."
The president's proposal to avoid the fiscal cliff calls for $1.6tn (£990bn) in new tax revenue over 10 years.
Mr Boehner has said that he is prepared to consider increasing tax revenue - by closing loopholes and limiting deductions rather than raising rates.
A Republican counter-offer made last week would aim to collect $800bn in revenue by closing tax loopholes and deductions.
It would also reduce government spending by $1.4tn, raising from 65 to 67 the age of eligibility for Medicare, a popular healthcare programme for the elderly, and by changing the way annual increases in Social Security payments are calculated.
But some Democrats have indicated they are not prepared to consider such changes to major government provisions.
Extended benefits for the long-term unemployed and a temporary cut to payroll taxes are also scheduled to expire at the end of the year.
International observers, including Christine Lagarde, head of the International Monetary Fund, have warned that effects of going over the fiscal cliff would ripple out to the rest of the world.