Naeem David charged with murder over NYC subway death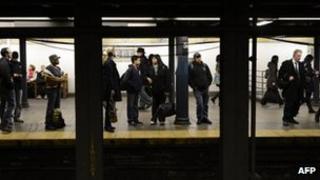 A homeless man has been charged with second-degree murder for pushing a man to his death in front of an oncoming train in New York.
Naeem Davis, 30, was questioned on Tuesday and police say his answers linked him to the death of Ki-Suck Han.
Security video showed a man matching Mr Davis' description working with street vendors near Rockefeller Center.
The New York Post newspaper has been criticised for publishing a photo of Mr Han, moments from death, on the cover.
Mr Davis was ordered to be held without bail at Wednesday's court appearance.
Walking past reporters, he said the confrontation had been Mr Han's fault: "He attacked me first. He grabbed me."
Witnesses said a man was talking to himself on the platform before he approached Mr Han, 58, and shoved him on to the tracks at the 49th Street station, following an argument.
A freelance photographer, R Umar Abbasi, who was waiting on the platform, has been criticised for taking pictures of the victim instead of trying to help.
Mr Abbasi said he was trying to get the train driver's attention with his camera flash.
"I can't let the armchair critics bother me," he told the New York Post. "They were not there. They have no idea how very quickly it happened."