New York Post photographer defiant over subway-death image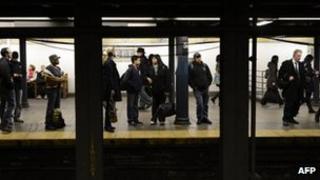 A New York Post photographer has hit back against critics over pictures he took of a man moments from death on a subway track.
Freelancer R Umar Abbasi said in a media interview that he had used his camera flash to alert the train driver, rather than to snap photos.
The tabloid's front-page story, headlined This Man Is About To Die, has triggered an online backlash.
Police said they had charged a suspect on Wednesday with murder.
Investigators say Naeem Davis, 30, who was detained on Tuesday, had made statements implicating himself in the crime.
The victim, Ki-Suck Han, was shoved by a stranger on to the track at 49th Street station near Times Square on Monday afternoon.
'Sickening'
Witnesses said they saw an assailant talking to himself before he approached Mr Han, 58, on the platform and shoved him into the train's path following an argument.
Abbasi said on Wednesday he is shocked that people closer to the victim did not try to help in the 22 seconds before the train struck.
"It took me a second to figure out what was happening," he told NBC's Today programme. "I saw the lights in the distance. My mind was to alert the train."
"The people who were standing close to him... they could have moved and grabbed him and pulled him up. No-one made an effort," he added.
His picture, which featured on Tuesday's front page, has prompted a fierce ethical debate.
"The treatment of the photo was driven by a moral and commercial calculus that was sickening to behold," wrote a commentator for the New York Times.
Wednesday's edition of the New York Post carried a front-page article headlined My Snap Decision, in which Abbasi describes what happened.
He is quoted as saying: "I just started running. I had my camera up - it wasn't even set to the right settings - and I just kept shooting and flashing, hoping the train driver would see something and be able to stop."
He added: "At the same time, the perp was running toward me. I was afraid he might push me onto the tracks."
Abbasi says the victim did not scream or cry out for help, which haunts him.
"I can't let the armchair critics bother me," he continues. "They were not there. They have no idea how very quickly it happened."