Deal reached to end strike at Los Angeles ports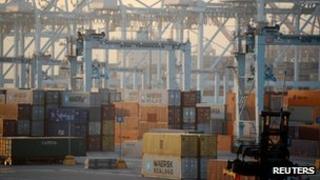 A deal has been reached to end a strike at the port of Los Angeles which has been disrupting the nation's busiest shipping complex for a week, the mayor of Los Angeles has announced.
Clerical workers had been fighting a proposal to increase staff outsourcing.
Federal mediators from Washington DC helped broker the deal, the mayor said.
The strike brought to a standstill three-quarters of the estimated $1bn (£621m) a day in cargo that passes through the port.
At question are proposed changes to rules that port managers say will enable them to make savings by not filling vacancies created by staff quitting or retiring, but which are no longer needed.
But union officials said this effectively meant outsourcing administrative jobs to places such as Taiwan and China, where shippers can pay lower wages for work that can be done by computer.
'Mission accomplished'
Negotiators reached a tentative agreement during Tuesday night, Los Angeles Mayor Antonio Villaraigosa said.
"The negotiating team has voted to approve a contract that they'll take to their members," he said after the meeting.
"I think it's appropriate to say 'mission accomplished'."
The mayor also confirmed that the shipping authorities would not outsource staff.
Union spokesman Craig Merrilees welcomed the agreement: "Really it was getting control on the outsourcing - ensuring that the jobs are here today, tomorrow and for the future."
Workers will return to work on Wednesday, another union official confirmed.
"I'm really pleased to tell all of you that my 10,000 longshore workers in the ports of LA and Long Beach are going to start moving cargo on these ships," said Ray Familathe, the vice president of the International Longshore and Warehouse Union, which represents about 800 clerks.
"We're going to get cargo moved throughout the supply chain and the country and get everybody those that they're looking for in those stores."
The agreement will not be finalised, however, until union members have passed their vote.
Some 10,000 unionised dockworkers joined the clerical workers during their protest, refusing to cross picket lines to load and unload cargo.
As a result, the strike left thousands of truck drivers at a standstill and threatened to create shortages for wholesalers and retailers around the country.