Fiscal cliff: Obama says tax rates could drop in 2013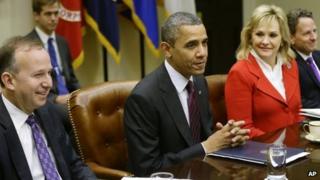 US President Barack Obama has said in an interview that he would consider lowering top tax rates as part of a wider reform of the tax code in 2013.
The White House also signalled that it might agree to increase taxes for the wealthiest earners to less than 39.6%.
Spokesman Jay Carney left open the option that rates would not have to rise to that Clinton-era level.
Lawmakers are deadlocked in efforts to avert steep spending cuts and tax rises due to take effect on 1 January.
Mr Carney said the "major obstacle" in reaching an agreement was a Republican refusal to accept an increase in the top income tax rate.
He also said the president was "not wedded to every detail of his plan", and knew that Democrats "wouldn't get everything they want".
Future tax reform
Speaking to Bloomberg Television on Tuesday, Mr Obama suggested that tax rates for the wealthy could come down as early as 2013 if politicians agreed to comprehensive tax reform.
That sort of reform would close loopholes, reduce pre-tax deductions and find new ways to generate revenue.
"It's possible that we may be able to lower rates by broadening the base at that point," Mr Obama said.
But he insisted rates must rise now as part of an agreement to avoid the so-called "fiscal cliff".
"We have the potential of getting a deal done," he said, in his first interview since winning re-election.
"We're going to have to see the rates on the top 2% go up, and we're not going to be able to get a deal without it."
On Monday, Republicans put forward a proposal that was swiftly dismissed by the White House.
It called for increased tax revenue of $800bn over a decade, but would keep current tax cuts in place - including those for wealthier earners.
The offer did not specify how the new revenue would be found.
The proposal also suggested raising the eligibility age for Medicare - a government-sponsored health programme for senior citizens - and changing the way the Social Security pension scheme makes inflation adjustments.
Mr Obama's plan, put forward last week, called for $1.6tn in new revenue. The White House has said it does not believe simply closing loopholes would raise sufficient revenue.
On Tuesday the president met a group of Republican and Democratic state governors, who sought assurance that a fiscal cliff deal would not add to the burden on states.
Mary Fallin, the Republican governor of Oklahoma, said: "We asked for flexibility on how the federal money is passed down to the states and the cuts that are passed down, that we could have some flexibility to do what's in the best interest of our states," the Associated Press reported.
The fiscal cliff would suck about $600bn (£347bn) out of the economy.
The measures were partly put in place within a 2011 deal to curb the yawning US budget deficit.