NFL team 'counselled' Jovan Belcher before murder-suicide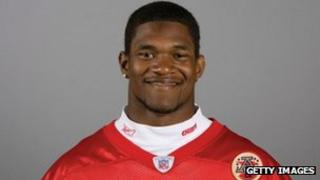 A picture is emerging of the volatile relationship of an NFL player who shot dead his girlfriend before taking his own life at the weekend.
The Kansas City Chiefs had provided counselling for Jovan Belcher, 25, and Kasandra Perkins, 22, the mother of his child, said a police official.
The couple are said to have had financial and relationship issues.
Linebacker Belcher shot Perkins on Saturday, before killing himself in the Missouri team's stadium car park.
Police Sergeant Richard Sharp told the Kansas City Star the team had been "bending over backward" trying to help the couple.
It is not clear how long the NFL team had been providing counselling for Belcher and Perkins.
Belcher had been with the Chiefs for four years, and was on a one-year $1.9m (£1.2m) contract.
Argument
The night before the shootings, Perkins had attended a concert with friends while Belcher had been out in an entertainment district, police said.
Belcher's mother had been looking after the couple's three-month-old baby and was in the house when her son opened fire on his girlfriend.
Detectives have not said what the couple was arguing about, but the Star reported that Belcher had been upset at Perkins for staying out late.
Belcher arrived at the stadium car park on Saturday after shooting his girlfriend.
He reportedly emerged from his Bentley holding a gun to his head and thanked his coaches for everything the team had done for him.
As they tried to calm him down, Belcher reportedly said: "Guys, I have to do this." Hearing the wail of police sirens, he knelt down and shot himself in the head.