Mexicans charged over Terrell Horne Coast Guard death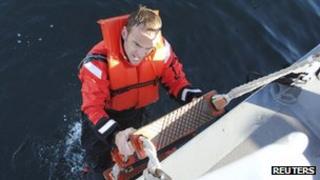 Two Mexican men have been charged with killing a US federal officer after a suspected smuggler's vessel collided with a US Coast Guard boat.
Jose Meija Leyva and Manuel Beltran Higuera were indicted in Los Angeles, California, over the death of 34-year-old Chief Petty Officer Terrell Horne.
Two officers were thrown overboard off the southern California coast in the early hours of Sunday morning,
Horne suffered a serious head injury and was later pronounced dead.
He was struck by a propeller, although the criminal complaint does not say which boat hit him.
'Zero questions'
Coast Guard officers were chasing a vessel they suspected was carrying drugs when the incident happened, about 180 miles (290km) north-west of the US-Mexico border.
The Halibut, a patrol cutter, was dispatched after the Coast Guard spotted a vessel travelling without lights.
A smaller, inflatable boat was sent out by the cutter to investigate but as it approached, the vessel accelerated rapidly, knocking two officers into the water.
The second crew member was treated for minor injuries and two others on board the boat were not harmed.
Jonathan D'Arcy, one of the four officers on the inflatable boat, fired several shots at the oncoming vessel, the complaint said, while another crew member, Michael Walker, attempted to steer out of the way.
The Halibut's commanding officer, Lt Stewart Sibert, said Terrell Horne was the best shipmate he had ever known.
"He was my friend, he was my confidante, he was the glue that held my crew together," Lt Sibert said. "He gave me advice more times than I could count."
A Coast Guard spokesman said there would have been other logistical problems with waiting for the suspected vessel to come ashore, adding there were "absolutely zero questions" about whether the team had followed proper protocol.
Spokesman Adam Eggers did not describe the suspected boat or say if drugs had been found on board.