Wikileaks suspect Bradley Manning admits making noose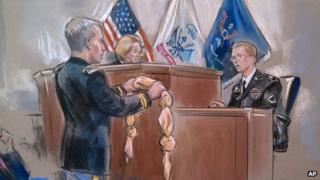 A US Army court has seen a noose made from a bed sheet by alleged Wikileaks source Private Bradley Manning as he considered suicide.
Pte Manning, 24, told the hearing he had made it while being held in Kuwait, shortly after his arrest in May 2010.
But the former intelligence analyst said he was no longer suicidal after he was taken to a US military prison.
He says charges he faces for allegedly giving secret files to Wikileaks should be dropped because of his jail ordeal.
The military argues that stringent measures, such as keeping him in isolation, were necessary to prevent Pte Manning from harming himself.
Naked prisoner count
His lawyers argue that the procedures lasted well past the time when he was having suicidal thoughts and therefore amounted to illegal punishment.
Pte Manning faced prosecutors' questions on the second day of his testimony at Fort Meade, Maryland.
He said his incarceration in Kuwait was the worst period of his entire confinement.
"I certainly made a noose," Pte Manning said. "The sheet noose in particular."
But he said he no longer posed a serious risk of taking his own life after he was transferred in July 2010 to a military prison in Quantico, Virginia.
There, he was locked up alone for 23 hours a day in a small cell for nearly nine months, and had to sleep naked for several nights. He was also shackled while outside his cell.
'Sarcastic answer'
He said he was forced to stand naked at attention one morning for a prisoner count.
"I had no socks, no underwear," he said. "I had no articles of clothing. I had no glasses."
He acknowledged having written on a form when he first arrived at Quantico that he was "always planning and never acting" upon suicidal thoughts, but said that "it might have been a sarcastic answer".
He was classified a suicide risk for just over a week, then was designated on the less-restrictive "prevention of injury" status.
In January 2011, six months into his incarceration at Quantico, Pte Manning told a prison board that he was not suicidal.
He is attempting to plead guilty to some charges of sending secret documents to Wikileaks, while avoiding trial on the more serious counts.
His plea will be considered at a hearing on 10 December.
Pte Manning would admit having sent more than 250,000 diplomatic cables and classified files to Wikileaks.
The government could still prosecute him for all 22 counts he faces, including aiding the enemy.
That offence carries a maximum penalty of life in prison.