New Jersey Governor Christie requests $37bn in storm aid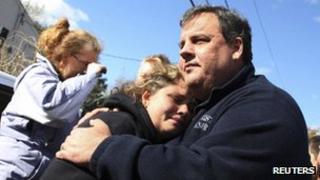 New Jersey Governor Chris Christie has requested $37bn (£23bn) from the US federal government to help the state recover from "Superstorm" Sandy.
The funds would cover mitigation and prevention efforts as well as repairs.
On Monday New York Governor Andrew Cuomo asked for $42bn, saying his state could not foot the bill alone.
The north-eastern states were devastated by the 30 October storm, which killed more than 100 and caused $62bn in damage.
"My commitment to the people of New Jersey is to make steady progress in our recovery, and to know that three or six or 12 months from now I'll demand the same level of effort, attention and results from government as I have in the past 30 days," Gov Christie said at a news conference on Wednesday.
Last week, the Republican governor announced he had requested $29.4bn for repairs.
On Wednesday he added to that $7.4bn for the mitigation and prevention of future flooding and destruction.
The request is larger than the state's annual budget of $32bn.
Gov Christie says more than 30,000 properties were destroyed or badly damaged in last month's storm, while 230,000 New Jerseyans have registered for emergency aid from the government.
In New York, Gov Cuomo said taxpayers could not afford to pay for the recovery and prevention on its own.
"It would incapacitate the state," he said on Monday. "Tax increases are always a last, last, last resort."
Gov Christie said this week he would run for re-election in November. He said he was motivated by a desire to help the state through the recovery process.
His response to the storm, including his embrace of Democratic President Barack Obama and federal recovery efforts, won widespread praise.