US Powerball lottery: Two tickets share $587m jackpot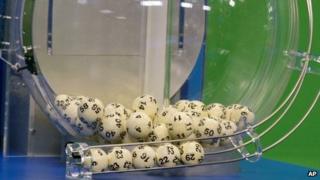 Two tickets, bought in Arizona and Missouri, share a $587.5m (£366m) US Powerball lottery jackpot, the second-biggest US prize ever, organisers say.
Missouri lottery officials have verified that winning ticket and will hold a Friday morning news conference.
The Arizona winner has 180 days to claim the prize money.
The winners beat odds calculated at one in 175 million to match all six numbers. Tickets had been selling at a rate of 130,000 a minute nationwide.
Lottery officials said the winning tickets were sold at a Four Sons Food shop in Fountain Hills, Arizona, and at a convenience store about 35 miles (56km) north of Kansas City in Missouri.
It is not yet clear whether the tickets were bought by individuals or groups.
The jackpot had swelled after 16 consecutive rollover draws.
Statisticians estimated a player had more chance of becoming US president, dying from a bee sting or getting struck by lightning than hitting the jackpot.
The numbers drawn late on Wednesday were 5, 23, 16, 22, 29 and 6.
The prize fund had apparently been boosted by late purchases by those who rarely play the lottery.
Forty-two US states, the District of Columbia and the US Virgin Islands participate in the Powerball lottery.
Officials doubled the price of Powerball lottery tickets in January to $2.
Despite an initial drop in sales, revenue is reportedly about 35% higher than 2011 figures.