Elder Black Eagle, who 'adopted' Obama, dies at 78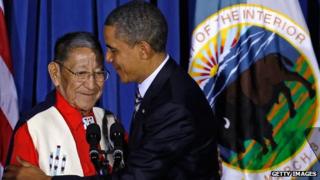 The Native American elder who ceremonially adopted Barack Obama into the Crow nation has died, aged 78.
Hartford "Sonny" Black Eagle Jr passed away on Monday on a reservation in the US state of Montana, his family said.
He had been ill with emphysema and pneumonia. In May 2008 he gave then-Senator Obama a name meaning "One who helps people throughout the land".
Mr Black Eagle attended Mr Obama's inauguration and later White House conferences on Native American affairs.
Mr Obama was adopted by the traditional healer in a ceremony in Montana during a visit ahead of that state's Democratic Party primary.
Mr Obama, who was nearing the end of his primary campaign against then-Senator Hillary Clinton, won the state.
The candidate said at the time it was "an enormous honour" to be adopted into the Crow nation and struggled to pronounce his new name.
"Barack Black Eagle," he then quipped. "That is a good name."
Mr Black Eagle's son told McClatchy Newspapers his late father had been proud to count the US president among his sons but did not make a big deal out of it.