New York nanny Yoselyn Ortega denies murder charges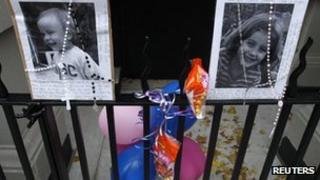 A New York City nanny has pleaded not guilty to stabbing to death two young children in her charge last month.
Yoselyn Ortega entered the plea in hospital, where she is being treated for stab wounds. Police say she stabbed herself after killing the children.
Ms Ortega, 50, has been charged with murdering Lucia Krim, six, and her two-year-old brother, Leo, on 25 October.
Their mother, Marina Krim, returned home to find the children dead in a bath and Ms Ortega bleeding heavily.
The children's father, Kevin Krim, a CNBC television executive, was away on a business trip.
On Wednesday a judge ordered Ms Ortega held without bail pending a psychiatric examination.
Ms Ortega was handcuffed to a bed at New York-Presbyterian/Weill Cornell Medical Center in New York's Manhattan borough during the proceedings.
She wore a blue hairnet, had a tube in her throat, and lay under a white blanket, appearing alert, the Associated Press reported.
No flowers, photographs or other personal items were displayed in the hospital room.
Ms Ortega was charged with four counts of murder.
She entered her pleas through her lawyer, Valerie Van Leer-Greenberg, who said: "I ask you to enter a not guilty plea on behalf of my client."
Ms Leer-Greenberg told a judge her client was "profoundly, medically impaired and in need of medical attention".
Mrs Krim had chronicled her children's upbringing in a blog, Life with the Little Krim Kids, which has since been taken offline.