Powerball lottery prize at $500m before Wednesday draw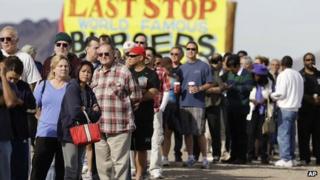 A record Powerball lottery jackpot has swelled to $500m (£312m) ahead of Wednesday's prize draw, officials say.
A single winner could take as much as $327m before taxes. But the odds of scooping the top prize have been calculated at one in 175 million.
As the value of the jackpot has soared, ticket purchases by infrequent players and workplace syndicates have surged.
The jackpot is the second largest in history, behind a Mega Millions prize of $656m in March.
Earlier this year officials doubled the price of Powerball lottery tickets in January to $2. Despite an initial drop in sales, revenue is reportedly about 35% higher than 2011 figures.
In 2012, the company raised nearly $4bn in sales and it is projected to make $5bn in 2013, reports the Associated Press news agency.
There has been no winner for the massive Powerball prize since 6 October.
Forty-two US states, the District of Columbia and the US Virgin Islands participate in the Powerball lottery.