Barack Obama rallies support for his 'fiscal cliff' plan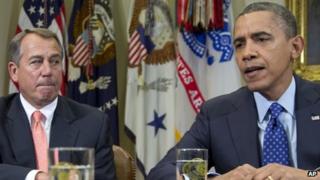 US President Barack Obama is launching a week of public outreach in pressing his case for tax rises on the wealthy as the so-called fiscal cliff looms.
Mr Obama meets business leaders at the White House on Tuesday and members of middle-class families on Wednesday.
He wants Republicans to accept tax increases on the wealthy, while extending tax cuts for families earning $250,000 (£155,000) or less.
The fiscal cliff, a package of spending cuts and tax rises, hits on 1 January.
The measures, which would suck about $600bn out of the economy, were intentionally engineered as part of a 2011 compromise between Mr Obama and congressional Republicans.
Recession alert
Negotiators then hoped it would spur the two sides to reach a long-term solution to the US budget deficit.
A US failure to step back from the fiscal cliff could help plunge the world back into recession, the OECD, which represents the world's richest nations, warned on Tuesday.
As part of his outreach effort this week, Mr Obama is also scheduled to visit a local company in Pennsylvania on Friday.
With tax cuts passed under President George W Bush set to expire on 1 January, the White House says Mr Obama will not sign any deal which extends that measure for the wealthiest Americans.
John Boehner, the top Republican in Congress, has said he would consider increasing tax revenue by closing loopholes, though he remains opposed to raising taxes.
The House of Representatives Speaker has said such a strategy would hit small businesses and hold back economic growth.
Republicans instead want to see cuts to federal programmes that have strained the US budget, adding to the deficit because of the increasing number of participants and rising costs.
In recent days, however, several Republicans have shown willingness to countenance tax increases, including prominent Republican Senators Lindsey Graham, Bob Corker and Saxby Chambliss along with Representative Peter King.
Grover Norquist, a powerful anti-tax lobbyist, acknowledged on Monday that those Republicans were having "impure thoughts".