Cockroach-eating competition man 'choked to death'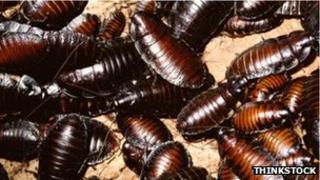 A Florida man choked to death in October after eating dozens of live cockroaches in a contest to win a python, an autopsy has found.
The body of Edward Archbold, 32, tested negative for drugs and Broward County medical examiner ruled the death was an accident caused by "asphyxia".
Archbold collapsed and died soon after the promotional event at a pet store in Deerfield Beach, Florida.
No other illnesses were reported among some 30 competitors.
Archbold died of "asphyxia due to choking and aspiration of gastric contents", the Broward County medical examiner's office found.
His airway became obstructed with "arthropod body parts".
The grand prize for the contest winner was a python, and Archbold had planned to sell the snake to a friend, according to the owner of the Ben Siegel Reptile Store.
"We feel terribly awful," said Ben Siegel, the owner, said after Archbold's death.
"He looked like he just wanted to show off and was very nice," he said, adding that Archbold did not appear to be ill before the competition.
A lawyer for Mr Siegel said all the contestants had signed disclaimers "accepting responsibility for their participation in this unique and unorthodox contest".