Basketball player scores record-breaking 138 points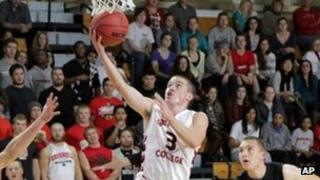 An Iowa basketball player has broken the college scoring record by 25 points, averaging one attempt every 20 seconds in a single game.
Jack Taylor, 19, of Grinnell College, scored 138 points during the 40-minute game against Faith Baptist Bible.
The 5ft 10in (1.7m) point guard said the hoops bonanza was all the more remarkable given his lacklustre performance in a game last weekend.
The previous scoring record of 113 was set in 1954.
"I don't think reality has set in yet," said Taylor after Tuesday night's game.
He told ESPN that he thought he had about 30 points going into half-time. Instead, his coach told him he already had 58 points.
"You could see the team's eyes light up," said Taylor, from Wisconsin.
He made 108 shooting attempts in his 36 minutes on the court, including 71 three-point shots, which are taken from a 20ft-arc outside the basket. He made about half of all attempts.
In the second half, he made 18 three-pointers, and averaged four points per minute.
The Grinnell Pioneers beat Faith Baptist Bible College by 179-104.
Under coach David Arseneault, the Grinnell Pioneers have led their national division in scoring for 17 of the past 19 seasons, as part of a system where he requires the team to make at least 94 attempts per game.
Professional basketball players were duly impressed by Taylor's feat.
"I never heard of nothing like that," said Carmelo Anthony of the New York Knicks. "That's like a video game. How can you shoot 100 times, though?"
The most points ever scored in a single NBA game is 100.