California nativity display bid blocked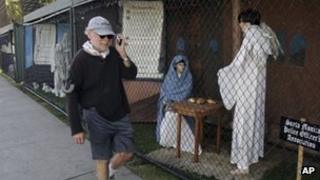 A California Christian group has lost its bid to mount a large Christmas Nativity display in a public park currently closed to private displays.
Private displays were banned in the Santa Monica park after atheist groups dominated the city's 2011 auction process.
Judge Audrey Collins effectively upheld the ban while a lawsuit against the city continues.
A lawyer for the Santa Monica Nativity Scene Committee says it will appeal.
"The atheists won and they will always win unless we get courts to understand how the game is played," William Becker said after the hearing.
"This is a game that was played very successfully and they knew it," Mr Becker added.
The nativity committee, made up of a collection of Santa Monica's Christian churches, built sprawling, life-sized Nativity scenes of Jesus' birth for almost six decades.
The displays often took up a majority of slots in park, which overlooks the Pacific Ocean. But in 2011, atheists won 18 of 21 spots and triggered a bitter dispute.
Two display places went to the traditional Christmas displays and one to a Hanukkah display.
Citing increased costs for the auction, the city council then voted to ban all private, unattended displays.
Under city rules, the churches can still set up displays in 12 of the city's other parks, as long as they obtain with a permit.