What can David Petraeus teach the Pentagon?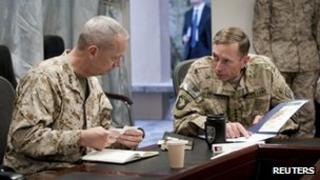 A week ago, David Petraeus was still the CIA director and John Allen was contemplating his move from running coalition operations in Afghanistan to taking over Nato's top job, Supreme Allied Commander Europe.
Paula Broadwell was just the author of a rather gushing biography of Gen Petraeus, with a walk-on part in infomercials for high-tech weaponry.
And few people outside Tampa had ever heard of Jill Kelley.
After a week of media frenzy, the dust has already started to settle on "the Petraeus affair". When America's most decorated former soldier was called to testify on Capitol Hill on Friday, it wasn't so that members of Congress could ride their moral hobby horses at the general's expense.
They wanted to talk about the former CIA director's role in shaping the Obama administration's description of the attack in Benghazi that claimed the lives of the US ambassador Chris Stevens and three other Americans.
Asked briefly whether the affair with Mrs Broadwell had affected his handling of the Benghazi affair, Gen Petraeus said no. Members of Congress seemed satisfied.
Wider concerns
But if the titillation is almost over, some of the issues highlighted by the rapidly unfolding events of the past week continue to cause concern within the administration.
Headlines like "Sex And The Modern Soldier" and "Pentagon To Review Ethical Standards" show that something wider is afoot.
Pentagon officials, travelling in Asia with the Secretary of Defense, let it be known that Leon Panetta had initiated a wide ranging review of legal and ethical issues within the military.
They stressed that such a review had been in the works for some time and was not triggered by the departure of Gen Petraeus or the subsequent question marks raised over "possibly inappropriate communications" involving the International Security Assistance Force (Isaf) commander, John Allen, and Tampa socialite Jill Kelley.
A slew of other recent cases has clearly given Mr Panetta cause for concern.
These include demoted head of US Africa Command, General William Ward (accused of misusing government funds for lavish spending); the former deputy commander of the 82nd Airborne Division, Brig Gen Jeffrey Sinclair (facing possibly military trial for sexual misconduct); and James Johnson III, a former commander of the 173rd Airborne Brigade (convicted of bigamy and fraud).
Speaking in Thailand, Mr Panetta sounded a warning.
"One thing I do demand," he said, "Is that those who seek to protect this country operate by the highest ethical standards."
Cavaliers?
And it's clearly not just about sex.
One of the odd little details of the past week is the fact that both David Petraeus and John Allen allowed themselves to be used in a messy custody battle involving the son of Jill Kelley's identical sister.
A judge in the case had already described Natalie Khawam as lacking "any appreciation for the importance of honesty and integrity".
But Gen Allen praised her "maturity, integrity and steadfast commitment to raising her child", while Gen Petraeus said that he and his wife had witnessed "a very loving relationship" between mother and son.
Some observers have wondered whether the two generals were guilty of an error of judgement in getting involved in the case at all.
Then there's the rather more consequential issue of data security. As investigators examine Paula Broadwell's computer, and pour over the voluminous email traffic between Gen Allen and Jill Kelley, they're looking for signs of a possibly cavalier attitude towards the handing of classified material.
As far as the two generals are concerned, they may conclude there's nothing to worry about.
As a reserve intelligence officer, Mrs Broadwell presumably had access to classified material from a variety of other sources. Whether any of it should have been found on her laptop is another question.
And there's no indication, so far, that Gen Allen discussed national security with Mrs Kelley.
For now a military sex scandal has given way to an old-fashioned blame-game over Benghazi. But the generals might find themselves under closer scrutiny in years to come.