Death penalty sought for US soldier in Afghan massacre case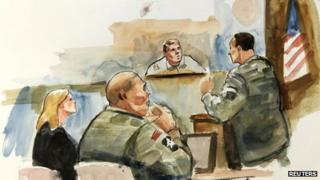 A US soldier accused of killing 16 civilians - nine of them children - in southern Afghanistan in March should face the death penalty, military prosecutors say.
Several soldiers told the preliminary hearing that Sgt Robert Bales returned to their base covered in blood.
Sgt Bales' lawyer says there is not enough evidence for him to stand trial.
The lead investigator in the case will make a recommendation on whether a full court martial ought to proceed.
Col Lee Deneke will make his recommendation to a senior general by the end of this week, who will then make a decision on whether the court martial should go ahead.
Military prosecutor Maj Rob Steele told the hearing in Washington state said the death penalty should be considered due to the "heinous, brutal and methodical" nature of the crimes.
Sgt Bales faces 16 counts of murder, six counts of attempted murder, as well as charges of assault and using drugs and alcohol while deployed.
'Clear memory'
The hearing held evening sessions to ensure victims and relatives of those killed in the two villages in Kandahar province could testify via video link.
One seven-year-old girl told the hearing of how she hid behind her father, who was shot and killed when the gunman attacked.
Maj Steele said statements Sgt Bales made a few hours after the incident demonstrated that he had a "clear memory" of what had happened, and that he was conscious of his actions.
However, Sgt Bales' lawyer Emma Scanlan told the hearing that the evidence presented was not sufficient to go forward to a court martial.
She pointed to inconsistencies, such as the testimony from some of the Afghan witnesses that more than one shooter was involved.
The massacre caused widespread anger in Afghanistan and put further strain on already tense US-Afghan relations.
No US service member has been executed in more than 50 years, the BBC's Alistair Leithead reports.
The six currently on death row were convicted of killing US citizens, not foreign nationals, he adds.