Profile: Gen John R Allen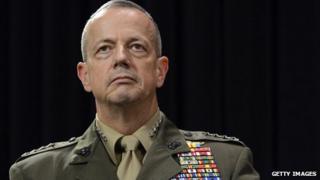 The US commander in Afghanistan Gen John R Allen is the latest military official to become embroiled in the sex scandal which has ended the career of CIA head David Petraeus.
After leading Operation Iraqi Freedom in the Anbar province, Gen Allen succeeded Mr Petraeus as top leader of US and Nato troops in Afghanistan in July 2011.
Both men also served in Tampa, Florida, home to US Central Command, which Mr Petraeus led before taking over as commander in Afghanistan in 2010.
Gen Allen is now being investigated for allegedly sending "inappropriate" emails to a woman whose complaint led the FBI to uncover Mr Petraeus's extra-marital affair with Paula Broadwell.
The probe has cast a shadow over the four-star general's distinguished military career, and delayed his appointment as Nato's next supreme allied commander, set for early 2013.
Well known in national security circles, the highly decorated war veteran has established a reputation for being a strong strategic thinker.
He holds advanced degrees from Georgetown University, the National Defense Intelligence College and the National War College.
Strong leader
Born in 1953 in the southern state of Virginia, Gen Allen graduated with military honours from the US Naval Academy in 1976, receiving a Bachelor of Science degree in Operations Analysis.
After his Marine training at Camp Baret, Gen Allen transferred to Washington DC in the early 1980s where he successfully completed the Postgraduate Program of the Defense Intelligence Center.
During this time, he also became the first Marine Corps officer to be inducted as a term member into the Council of Foreign Relations, considered one of America's most influential foreign-policy think tanks.
The following decade, Gen Allen started to lead major Marine Corps deployments overseas, including the 1995-6 Operation Joint Endeavor in the Balkans.
His unit was part of the landing force of the sixth fleet sent to Bosnia and Herzegovina to support Nato-led peace-keeping efforts.
In 2002, Gen Allen was promoted to Commandant of Midshipmen, the first Marine Corps officer to serve in this position at the Naval Academy.
He subsequently joined the Pentagon as director for Asian and Pacific affairs, in charge of devising foreign policy for the region.
Between 2006 and 2008, Gen Allen was deployed as the second-in-command to Anbar province in Iraq. He is credited with having been instrumental in convincing Sunni tribal elders to turn against al-Qaeda and become US allies.
Following the mission, Gen Allen served as acting deputy commander of the US Central Command, overseeing American military operations across the Middle East and central Asia.
In July 2011, he was made general by the Joint Chiefs of Staff and took over from Mr Petraeus in Afghanistan.
Alongside his army achievements, Gen Allen also has a distinguished academic record.
Career highlights include his role as commander of the Basic School, the Marine Corps' main training institute at Camp Baret where he himself was once a student.
Foreign awards include the Mongolian Meritorious Service Medal, First Class, the Polish Army Medal in Gold, and the Taiwan Order of Cloud and Banner with Special Cravat.