FBI search Petraeus mistress Paula Broadwell's home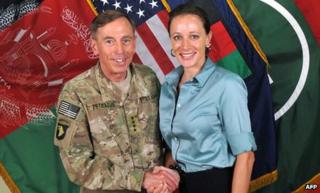 The Federal Bureau of Investigation is searching the home of the woman who had an extramarital affair with former CIA director David Petraeus.
FBI spokeswoman Shelley Lynch confirmed to the BBC on Monday night that agents were at Paula Broadwell's house in Charlotte, North Carolina.
The spokeswoman did not say what the agents were doing at the married mother-of-two's property.
Mr Petraeus has acknowledged the affair was a "colossal mistake".
The FBI spokeswoman told the BBC that agents arrived at the Broadwell home in the Dilworth neighbourhood of the city just before 21:00 local time (02:00 GMT).
FBI agents appeared at the home carrying cardboard boxes of the kind used for evidence gathering during a search, the Associated Press news agency reports.
Mr Petraeus stood down as head of the CIA last week shortly before news broke of the affair with his biographer.
Wife 'furious'
The relationship was discovered after a second woman, Jill Kelley, 37, told the FBI she had received anonymous harassing emails.
An FBI investigation found the messages had come from Mrs Broadwell, and further inquiry revealed the 40-year-old's affair with Mr Petraeus.
There is no suggestion that Mrs Kelley, a married socialite from Tampa, Florida, had an affair with Mr Petraeus. In a statement, she and her husband acknowledged their friendship with Mr Petraeus and asked for privacy.
Retired Army Col Steve Boylan earlier told ABC News that Mr Petraeus' wife of 38 years, Holly, was "not exactly pleased" by the news of his relationship with Mrs Broadwell.
"Furious would be an understatement", Col Boylan said.
Col Boylan said Mr Petraeus' affair with Mrs Broadwell began following his retirement from the army and about two months after he became director of the CIA.
He also said it had ended about four months ago.
Mr Petraeus joined the CIA in September 2011 after heading international forces in Iraq and later in Afghanistan.
National security concerns
Adultery is illegal under military law, and correspondents say Mr Petraeus could face military prosecution if evidence is found to challenge claims that the affair began after he left the army.
Mrs Broadwell, a West Point graduate, co-authored a biography entitled All In: The Education of General David Petraeus, which was published in January.
In the preface, she said she met Mr Petraeus in 2006 while she was a Harvard post-graduate student and that she researched the book while following him on trips to Afghanistan.
Mr Petraeus' exit from the CIA on Friday sent shockwaves through Washington, coming just days after President Barack Obama won a second term in office and pre-empting any reshuffle of his national security team.
US lawmakers have begun asking whether national security may have been compromised by the affair, and why they were not told sooner.
On 26 October Mrs Broadwell publicly discussed previously unreported information about an attack on the US consulate in Benghazi, Libya, which saw four Americans killed on 11 September, including Ambassador Chris Stephens.
In a speech at the University of Denver, Mrs Broadwell suggested the attack might actually have been an attempt to recover "Libyan militia members" who were being held by the CIA.
Benghazi focus
Her comments have stoked speculation as to whether there could be more to uncover about any role Mr Petraeus had in the aftermath of the Benghazi attack.
The intelligence agency denied the allegations, saying: "Any suggestion that the agency is still in the detention business is uninformed and baseless."
Mr Petraeus had been due to testify about the Benghazi attack on Thursday before a closed-door congressional committee meeting.
But acting director Michael Morrell will now take his place. Mr Petraeus could be called to give evidence at a later date.
It is thought that Mr Petraeus and Mrs Broadwell were careful during their affair to avoid leaving a trail of emails, law enforcement officials told AP.
They said the pair would leave emails in a draft folder, instead of sending them, on a personal account that both of them were able to access in order to read the messages.
In the autumn, classified documents were found on Mrs Broadwell's computer after she admitted the affair and allowed it to be searched.
Later, Mr Petraeus acknowledged he had been having an affair but told investigators he had not given Mrs Broadwell the classified information, reports say.