Judy Garland's Wizard of Oz dress fetches $480,000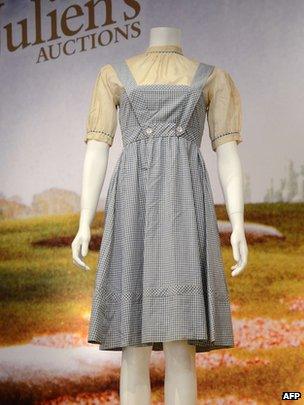 A dress worn by Judy Garland in the Wizard of Oz has sold for $480,000 (£302,000) at auction in Beverly Hills.
The price for the blue and white gingham pinafore dress was in line with expectations, Julien's Auctions said.
A similar dress worn during tests for the classic 1939 film fetched $910,000 (£572,500) in 2011, Reuters reports.
Auctioneer Darren Julien said the difference in price was due to the fact that fewer versions of the test dress were made.
Neither dress fetched anywhere near the $4.6m (£2.8m) spent last year on Marilyn Monroe's white "subway dress" from the 1955 film The Seven Year Itch, and the $3.7m (£2.3m) taken for Audrey Hepburn's Ascot dress from My Fair Lady.
The Wizard of Oz dress was made by the famous MGM costume designer Adrian Greenberg, who was commonly known simply as Adrian.
The buyer has not been identified.
However, Judy Garland's dress was not the only highlight of the two-day Hollywood Icons auction.
A green floral dress worn by Julie Andrews in The Sound of Music fetched $38,400 (£24,150); a racing jacket belonging to Steve McQueen sold for $50,000 (£31,500) and a purple wool skirt worn by Marilyn Monroe during the making of the 1954 film River of No Return went for the same amount.
Meanwhile, $1,375 (£865) was paid each for a slice of wedding cake from both Prince William and Kate Middleton's wedding and the 1981 wedding of Prince Charles and Princess Diana.