Life for Craigslist killer aide Brogan Rafferty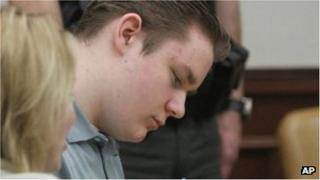 A teenager who helped kill three men who responded to a fake job advert on the Craigslist website has been given a life sentence.
Brogan Rafferty, 17, helped alleged killer Richard Beasley lure victims to a non-existent Ohio cattle farm.
Rafferty told the court during the sentencing hearing that he wished he had tried to stop the killings.
The teenager was convicted over the deaths of three men on 30 October, after being tried as an adult.
The three killed were Ralph Geiger, 56, David Pauley, 51 and Timothy Kern, 47.
Officials say they were targeted because they were older, single, out-of-work men with backgrounds that made it unlikely their disappearances would be noticed quickly.
A fourth man, Scott Davis, 49, survived after pushing a gun aside and running for help.
Mr Beasley still awaits trial for his alleged role in the murders.
'Nothing of remorse'
During the sentencing hearing on Wednesday, family members read a statement from Mr Davis that reminded Rafferty that they had eaten together before Mr Beasley allegedly attempted to kill him.
The statement reminded Rafferty that he could have stopped "what was about to happen".
"It was only by the grace of God that I survived," he said. "You took from me a chance to have a normal life."
Barb Dailey, sister of Timothy Kern, told Rafferty that he knew "nothing of remorse" and "nothing of shame".
She told the teenager that without true repentence, "you will be destroyed". Rafferty nodded slightly.
Prosecutors argued during the trial that the young man was a quick student of violence and a willing participant in the killings, while defence lawyers say he went along with Mr Beasley's plan because he feared for his life.
During the hearing, Rafferty said his life had been hell since the killings and said "they must be living in it", while gesturing with at victims' relatives who crowded the court.
"There were many options I couldn't see at the time," he said, describing Mr Beasley as evil and deceitful.
Defence lawyers say that the 17-year-old will testify against his mentor at the upcoming trial.
"If it weren't for Richard Beasley, Brogan wouldn't be sitting here," lawyer John Alexander said.