America's fiscal suicide pact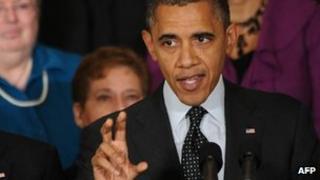 America might be forgiven for thinking they suffered a concussion, instead of holding an election, on Tuesday night. The country now has double vision.
The electorate was repeatedly told by both candidates there was a clear choice between two very different visions. After Tuesday, they might feel they have made one.
Republicans in Congress have other ideas. House Speaker John Boehner is insisting tax rises for the wealthy can't be allowed to happen.
Speaking before the president did so this afternoon, he said: "Everyone wants to get our economy moving again. Everyone wants to get more Americans back to work again. Raising tax rates will slow down our ability to create the jobs that everyone says they want."
He called on the president to lead.
Mr Obama did, but not in a direction that will delight Republicans. He is using the moral authority of his re-election to push his case. There is nothing new in his call for Congress to extend "middle-class tax cuts" at once. He's said it repeatedly before the election.
But it's different now. He has a renewed mandate and his demand has a fresh moral weight behind it. He pointed out even people who didn't vote for him told opinion pollsters that taxes should go up for the richest.
First act negotiations
There has to be an agreement. If the two sides can't get behind a plan to cut the deficit there will be pretty horrible consequences.
The ugly phrase "fiscal cliff" has stuck, but it is more like a ticking economic timebomb. The two sides agreed to a suicide pact if they couldn't reach agreement - tax rises and defence spending cuts the Republicans loathe - as well as other spending cuts that are offensive to Democrats.
The trouble is if the bomb goes off, it is not just the politicians who will be hurt. It is American economy that would explode, probably taking what's left of the world economy with it.
President Obama said that people had voted for action but he would refuse to accept any approach that wasn't balanced and made the middle class suffer alone. He said there shouldn't be a long, drawn-out drama.
The Republicans won't play along, and he will presumably portray them as churlish bad losers who won't accept the people's verdict. They will doubtless point out they too (or some of them) also have a fresh mandate.
While both Mr Obama and Mr Boehner sounded consensual they were in fact restating their mutually exclusive positions.
They are heading for confrontation, but this is only the first act - they are both stating a hard line, before the give and take of negotiations. They do have to get a move on. The drama can't run for long before it turns into tragedy for all of us.