Gabrielle Giffords faces Tucson gunman Loughner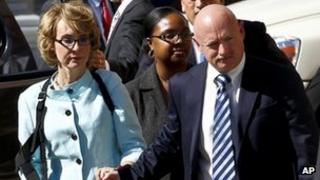 Ex-congresswoman Gabrielle Giffords has attended court to see the gunman who shot her in the US state of Arizona last year sentenced to life in prison.
Jared Loughner received seven consecutive life terms plus 140 years in jail for last year's deadly rampage.
Ms Giffords' husband, Mark Kelly, addressed Loughner in court, telling him the shooting had changed his wife's life, but had not dented her spirit.
Loughner pleaded guilty to 19 counts in a deal to spare him the death penalty.
It was the first time Loughner, who did not speak at the hearing, had faced his victims in court.
Ms Giffords hugged her husband after the judge handed down his sentence, while Loughner's mother sobbed through the hearing.
US marshals escorted the gunman's parents from the courtroom at the end of the hearing.
Victims speak out
Loughner shot Ms Giffords in the head, wounding 12 other people and killing six in the attack at an outdoor political meeting in Tucson in January 2011.
Mr Kelly said: "You may have put a bullet through her head, but you haven't put a dent in her spirit and commitment to make the world a better place.
"Although you were mentally ill, you were responsible. You have decades upon decades to contemplate what you did, but from this moment, Gabby and I are done thinking about you."
Earlier, court-appointed experts said Loughner suffered from schizophrenia and delusions.
In May 2011, his case was put on hold as he was deemed unfit to stand trial.
But that ruling was reversed after Loughner went through more than a year of treatment in prison.
Also addressing the Tucson hearing was Suzi Hileman, who was shot three times while trying to save her nine-year-old neighbour.
"You pointed a weapon and shot me three times," she said, staring directly at Loughner.
"And now I walk out of this courtroom and into the rest of my life and I won't think of you again."
Ms Giffords resigned from Congress in January 2012 to focus on her recovery.
Her former aide, Ron Barber, also wounded in the attack, served out the rest of her term after winning a special election. He was also in court.
On Tuesday, Mr Barber ran in the election for a newly-created congressional district in Arizona.
The full result has yet to be announced.