Your questions to Katty Kay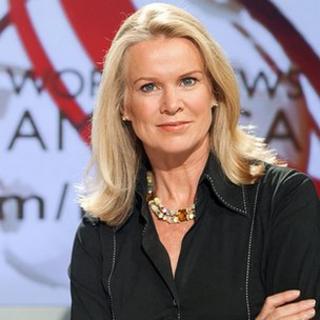 Following the results of the US elections, BBC Washington correspondent Katty Kay answered your questions in a live Twitter Q&A on Wednesday 7 November 2012.
This is an edited version of the session.
Question from Sean on Facebook: Why is #Florida always the last to announce the results? Can't they count there?
Katty answers: They can count in two languages there! It's one of closest fought, most populous states so it takes longer
Question from @SHSPolitics: How have Dems been able to increase their senate seats? Is it due to akin/mourdock?
Katty answers: Yes. The GOP didn't do itself any favours with those two candidates
Question from @errant1977: Jeb Bush for GOP run in 2016? adage says without "Bush or Nixon on the ticket" they've never won since 28?
Katty answers: Hmm. In their dreams, yes. He can expand the party but his last name still isn't Smith and he's told me that's an issue
Question from @alyssaweis: How do you feel the legalization of marijuana in certain states will affect the rest of the nation?
Katty answers: For me, question is whether this is like gay marriage, part of a social/demographic trend - I'm not sure yet
Question from @lizrob92:Where do you think Mitt will go from here? esp. considering his own people in Mass. didn't vote for him?
Katty answers: He'll get some sleep, spend time with his family and then look at his future. I'd guess some non-profit, GOP leadership role
Michael in London asks: What is the future of the GOP after the re-election of Obama?
Katty answers: This is THE biggest question out of the election. GOP needs to be more inclusive, but may start w a conservative backlash
A friend on our BBC World News Facebook asks: Are you wearing your hipster glasses today?
Katty answers: My 16-year-old daughter says it's never good to be hipster anything! Does this mean I have to be blind again?
Question from @benlhcarpenter: Why do Americans want change yet vote in the same man?
Katty answers: Understandably they aren't happy with the economy but they seem to have decided to give Obama's policies more time.
Question from @ds_andrews asks: What do you believe the #GOP'ers have to do to obtain more diverse votes? (Hispanic, African American etc.)
Katty answers: Changing their tone on immigration would help and signing up to comprehensive immigration reform would help even more.
Question from @Elly1J: What do you think would be the impact among the black people if Obama hadn't won?
Katty answers: The prospect of the first Af Am president being a 1-term president was part of what drove so many black voters to polls
Question from @NairnMcD: When will the inauguration be held for his second term?
Katty answers: This year it was due to be held on a Sunday, so it's been pushed back to Monday 21st January. It'll be chilly either way!
Michael in the UK asks: Could you explain why there is so much#Republican resistance to so called "Obamacare"?
Katty answers: Republicans believe Obamacare represents a costly, inefficient expansion of government. It was a big deal for GOP voters
Question from @jmesaghafi: Do you think #Obama has a strong mandate - given the dropoff in votes vs. '08 (9 million less)?
Katty answers: Remember, voters also chose to keep Republicans in the House, this was a vote for divided government
Question from @laurenlamack: What do you think the #GOP can do to become more "woman friendly" than they are/appear today?
Katty works: Ask Mr Mourdock and Mr Akin to keep quiet.
Question from @essex_tom: What should Obama's main priorities be in his second term of presidency?
Katty answers: First off is the budget but today Harry Reid mentioned immigration and climate change - expect to see both on the agenda
Question from @ChristopherJor5: What of Paul Ryan. Potential candidate for 2016?
Katty answers: Yes. At the Republican convention this year they were much more excited about Ryan than Romney
Question form @fergold: Why do so many Americans view socialism as some kind of evil?
Katty answers: Getting govt off your back is part of the American DNA, the pioneering spirit of individualism. It's also easy politics.
John Happ from Hingham, USA emails: Who will replace Mrs Clinton, now that the election is over?
Katty answers: I heard today that Hillary may stay for a bit longer to clear up Benghazi mess - beyond that Susan Rice or John Kerry
Question from @Steve_Map: Did you enjoy the election? Do the US have the same amount of coverage of the UK General Election?
Katty answers: Yes and no
Question from @SimenAndersen2: Is John Boehner really a nice guy? Doesnt seem like the most cooperative republican
Katty answers: I've never met him. I never hear that he isn't a nice guy
Question from @rhysbart: Who gets to keep the "Mitt Romney for President" plane? Does Mitt get to take it home ?
Katty answers: Even Gov Romney doesn't have a garage big enough for a plane. There was a rumour Bruce Springsteen was taking it on tour
Question from @robertch07: Without enjoying majority in house of representative, Can Obama pass any major bill?
Katty answers: Yes, if he can get compromise. That will take strong effective leadership
Question from @AndrewWork:Does Obama keep the same VP?
Katty answers: A snr WH official tells me Biden is there for the full four years and Obama has a lot of time for his VP
Q from @AmrNail: Now that Obama has been re-elected will the#republicans concede the fact that they have to increase taxes?
Katty answers: Speaker John Boehner has just said he knows revenue has to be part of the deal
Question from @dandemay: Any ideas on Dem candidate for 2016? Hillary perhaps?
Katty answers: Hillary, possibly. Rahm Emmanuel. Gov Martin O'Malley. Gov Hickenlooper - though I confess the name's a tad tricky
From Google+ user William D: Why wasn't there more coverage of Gary Johnson or other third party candidates?
Katty answers: Because they weren't going to win, or make a real impact on the race
Question from @MarkCWarner :How do you view the Tea Party's future in subsequent elections?
Katty answers: with confusion
Question from @RestlessRani: Think #Obama will act on pressure re action in #Syria?
Katty answers: There is still very little appetite for intervention in Syria, but he may have more freedom to focus on foreign issues now
Question from @CleverDemocrat: Puerto Rico voted in favor to be a US state, but will they actually become the 51st state of the US?
Katty answers: It would have to be voted on by Congress so chances are slim that GOP would approve a new hispanic state
Mike on Google+ asks: I'd like to know what's being said in Britain about the election's outcome?
Katty answers: After Romney's super successful trip to London this summer, Brits were mildly relieved not to see him elected
Katty says: Thank you for joining us today & following #election2012 with the BBC. Now go get some sleep! #AskKattyBBC
For more tweets from Katty Kay you can follow her Twitter account: @KattyKayBBC
Produced by Glenn Anderson, Claudia Milne and Susanna Cooper