Montreal Mayor Tremblay resigns amid corruption inquiry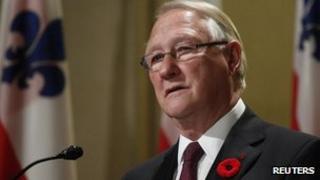 The mayor of Canada's second-largest city, Montreal, has resigned amid a deepening corruption scandal.
Gerald Tremblay, 70, told a news conference that he was leaving public life after 25 years in politics.
A public inquiry heard last week that Mr Tremblay was present at a meeting in which illegal donations for his party - Union Montreal - had been discussed.
Despite his resignation, Mr Tremblay continues to deny the allegations against him.
"After 25 years of service to this community, I'm leaving public life," Mr Tremblay told the news conference.
"My father told me to never get into politics because it was dirty and would destroy me. But my passion and love for Quebec and Montreal set the path I had to follow."
Correspondents say pressure on Mr Tremblay has been growing following damaging testimony at the corruption inquiry known as the Charbonneau Commission.
It has been told that Union Montreal ran a vast political financing scheme that collected illegal contributions from construction firms in return for municipal infrastructure contracts, the Toronto Star reports.
However, there is no indication that Mr Tremblay is suspected of breaking the law or is under investigation by the police, it adds.
Mr Tremblay was elected mayor of Montreal in 2001.