Storm Sandy: New York inquiry into overpricing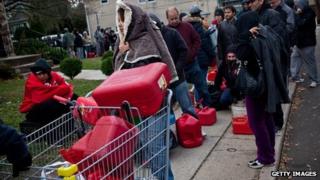 New York's attorney-general has launched an investigation into hundreds of complaints of prices being increased in the aftermath of storm Sandy.
Eric Schneiderman said the largest number of complaints concerned increased fuel prices, but other emergency supplies were also affected.
More than one million people in New Jersey and New York City are without power a week after the storm hit.
The cost of the city's response to the disaster has spiralled to $85.4m.
New York Comptroller John Liu said emergency contracts to repair damage included more than $30m (£18m; 23 million euros) for work on the city's beaches. A further $15m will be spent on pumping equipment and sewage plants.
Storm damage has affected preparations for Tuesday's elections, with hundreds of polling stations closed.
New Yorkers will now be able to vote at any polling station in the state, under an executive order signed by Governor Andrew Cuomo.
There are also increasing fears of potential damage from another storm with winds of up to 50mph (80km/h) due to reach coastal areas on Thursday.
Disaster official
But one of the most immediate tasks facing New York and New Jersey authorities is the 1.4 million homes and businesses still without power.
With temperatures set to fall to near freezing for a second consecutive night, New York Mayor Michael Bloomberg appealed to the elderly and families with infants to move to a shelter.
He has announced the appointment of an experienced disaster official, Brad Gair, to oversee the city's housing crisis.
Mr Bloomberg initially put the number of people in need of longer-term emergency shelter at between 30,000 and 40,000 but on Monday he estimated the figure to be less than 10,000.
And there was some good news for the region's beleaguered public transport-users. A limited Path train service between Jersey City and Manhattan is due to resume on Tuesday morning, Port Authority officials have announced.
Food and water costs
At the weekend, long queues of cars and people carrying red canisters built up at petrol stations.
While the queues had shortened by Monday afternoon, New York Mayor Michael Bloomberg announced that police officers would be posted at every open petrol station in the city to maintain order.
As a result of the storm, 8.5 million homes and businesses were initially left without power, prompting a surge in demand for generators and hotel rooms.
New York's attorney general said that consumers had contacted him to report "possible gouging for emergency supplies like generators, hotels raising rates due to 'high demand', as well as increased prices for food and water".
In a statement, Mr Schneiderman said that under New York state law, retailers were not allowed to charge "unconscionably excessive prices" for goods required for personal, family or household purposes when there was an abnormal disruption of the market.
He pledged to do "everything we can to stop unscrupulous individuals from taking advantage of New Yorkers trying to rebuild their lives".
'More outages'
Transport authorities had opened more subway lines on Monday, as more commuters returned to work and one million students returned to school for the first time since the storm.
But platforms were teeming with travellers, trains were overcrowded and limited bus services struggled to meet the demand for services into New York City.
Hundreds of people joined queues early on Monday for the Jersey City ferry service to New York.
Meanwhile, the forecasters warned of a new storm approaching the US east coast.
According to the National Weather Service, the coastal storm could reach South and North Carolina late on Tuesday before spreading northwards, strengthening as it moves up towards New Jersey by Thursday.
"Prepare for more outages," Weather Service meteorologist Joe Pollina told Associated Press.
Tent voting
In New York state, voters will be able to cast ballots at any polling station, on presentation of an affidavit, after Andrew Cuomo signed an executive order allowing the move.
In New Jersey, registered voters will be allowed to e-mail or fax their ballot if they submit an application first.
A bus toured a number of shelters on Monday to enable displaced residents to cast their ballots early.
More than 140,000 voters in New York are being given alternative polling stations. Some are likely to cast their ballots in tents.
Storm damage has also disrupted work at United Nations headquarters in New York, with severe flooding in the building's basement leading to a three-day closure.
The main Secretariat building overlooking the East River was worst affected and some employees had to move offices.
UN management's response to the crisis drew criticism from several international delegations, Reuters news agency reported.
Algerian UN ambassador Mourad Benmehidi told a General Assembly budget committee meeting that the UN had disappeared from the "screens of the members... and the screen of the world", Reuters said.