US soldier Robert Bales in court over Afghan massacre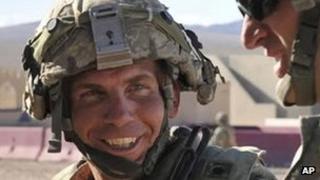 A preliminary hearing has begun for US soldier Sgt Robert Bales who is charged with killing 16 villagers, mostly women and children, in Afghanistan.
Sgt Bales is accused of walking off his base in Kandahar province during the night of 11 March and firing on civilians in their homes.
The massacre caused widespread anger in Afghanistan and added further strain to already difficult US-Afghan relations.
The hearing will determine if there is enough evidence for a court martial.
Sgt Bales faces 16 counts of premeditated murder and six counts of attempted murder, as well as charges of assault and using steroids. If convicted, he could face the death penalty.
'Chilling premeditation'
Proceedings, held at Joint Base Lewis-McChord in Washington state, are expected to take two weeks and will include live video testimony from witnesses in Afghanistan.
In his opening statement, prosecutor Jay Morse said he would present evidence proving "chilling premeditation" on the part of Sgt Bales.
The soldier is accused of leaving his base in Kandahar's Panjwai district in the early hours and opening fire on civilians in at least two villages as they slept in their homes. Nine of the dead were children and 11 of them were from the same family.
Mr Morse said the defendant had been drinking before leaving his post, and described his alleged actions as "deliberate, methodical".
The court was then shown surveillance footage shot at the army camp on the night of the massacre. In the video, soldiers confront a figure - identified by the prosecution as Sgt Bales - and ask him to drop his weapons before taking him into custody.
The accused is alleged to have been armed with a rifle, pistol and grenade launcher during the killings.
Apart from acknowledging the charges brought against him, Sgt Bales sat silently through Monday's hearing. He is not expected to give evidence in the case, his lawyers said.
The soldier, a married father of two from Lake Tapps in Washington, had already served three combat tours in Iraq and was on his first tour in Afghanistan when the massacre happened.
He is the only known suspect in the killings - despite repeated Afghan assertions that more than one American was involved.
Sgt Bales' wife, Karilyn, has described the allegations against him as "unbelievable", saying such actions would be "completely out of character of the man I know and admire".
"This hearing is important for all of us in terms of learning what the government can actually prove," Sgt Bales' lawyer, John Henry Browne, said.
"The defence's job is to get as much information as possible. That's what our goal is, in preparation for what is certainly going to be a court martial."