Storm Sandy: NY transport network under strain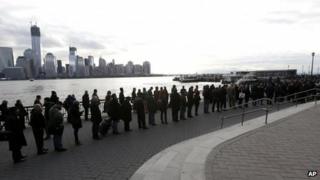 A big increase in travellers put New York's transport system under severe strain on Monday, a week after the region was ravaged by storm Sandy.
Commuters returned to work in greater numbers and up to one million students went back to school for the first time.
Although more subway lines were operating, services were limited and commuter trains were packed.
As overnight temperatures fell close to freezing, forecasters warned of a new storm approaching the US east coast.
According to the National Weather Service, the coastal storm could reach South and North Carolina late on Tuesday before spreading northwards, strengthening as it moves up towards New Jersey with gusts of up to 50mph (80km/h) by Thursday.
"Prepare for more outages," Weather Service meteorologist Joe Pollina told Associated Press.
An estimated 780,000 homes and businesses are still without power in New Jersey, and another half a million have not had supplies restored in New York City and Long Island.
'Back end of a crisis'
New York's political leaders have also warned that tens of thousands of people displaced by Sandy could soon need housing as the cold weather closes in.
New York City Mayor Michael Bloomberg put the figure at 30,000-40,000 people.
The immediacy of the crisis was underlined with the discovery of two more bodies in New Jersey. One had fallen victim to hypothermia.
Eighty New York City schools were either closed or relocated for the return of pupils on Monday morning, as some had no power and others were being used as shelters.
Across New York, New Jersey and Connecticut, train platforms and bus-stops were described as crowded.
NJ Transit, New Jersey's public transport body, warned that it was "still several weeks away from full service restoration".
Although emergency bus services were running, commuters struggled to find spaces as the state's population came to terms with what Governor Chris Christie said was "the back end of a crisis".
Hundreds of people queued for the Jersey City ferry to New York early on Monday morning and rail lines from New Jersey to Manhattan were still not operating.
On almost all New Jersey bus routes, the advice for travellers was to allow extra travel time because of overcrowding.
Appeal to leave
Federal agencies are looking for flats and hotel rooms in order to get people out of shelters, Homeland Security Secretary Janet Napolitano has said.
New York Governor Andrew Cuomo said homes without heat would become uninhabitable as temperatures fell.
Residents who had so far refused to leave their homes would have no other option, Mr Cuomo told a news conference on Sunday.
New York City opened warming shelters in areas without power and handed out blankets to residents who insisted on staying in homes without power.
But Mr Bloomberg urged those without heating to leave their homes if necessary.
"You can die from being cold. You can die from fires started when you use candles or stoves to heat your apartment," he said.
"If you don't know where to go, stop a cop on the street and say, please tell me where to go. They'll help you. But we have to make sure that you are safe for a few days and that you have food and water for a few days."
Impromptu runs
There have been reports of some complaints from residents of the city's outer boroughs - which were among the worst affected by the storm - of the slow pace of aid and of restoration of services.
Hundreds of runners who had been planning to take part in the New York marathon - cancelled by Mayor Bloomberg on Friday - joined impromptu runs to raise funds or deliver aid.
The storm damage from Sandy is also affecting preparations for voting in Tuesday's elections.
New Jersey residents displaced by Sandy will be able to vote by email or fax, the state's chief election official has decided.
They will be designated as "overseas voters" and can apply for mail-in ballots up until 17:00 local time on election day.
At least 108 US deaths - 40 of them in New York City - have been blamed on Sandy, which struck on 29 October.
The storm had already caused 69 deaths in the Caribbean before reaching the US. On Sunday the Haitian government made an appeal for humanitarian assistance from other governments and international organisations.
Aid agencies in Haiti have voiced concerns about the damage caused by Sandy, which has destroyed crops and left thousands of people homeless. There are also fears about the spread of cholera in flooded areas.