Two killed as US police helicopter crashes in Atlanta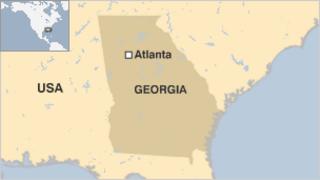 A police helicopter has crashed in Atlanta, killing both officers on board, US officials in the state of Georgia say.
The helicopter went down in a densely populated area near a busy road, but no-one was hurt on the ground.
The officers - whose names have not been released - were searching for a missing nine-year-old child, who has now been found unharmed.
The cause of the crash is being investigated by the authorities.
The helicopter crashed at about 22:30 local time on Saturday (03:30 GMT Sunday).
Unconfirmed reports say it hit power lines in the area.
Local TV stations later showed pictures of what appeared to be flaming debris near the road.
"The loss of an officer is probably the most difficult thing a chief of police can have to deal with," Atlanta Police Department chief George Turner was quoted as saying by CBS.
"Magnify that twice, it's a very difficult time for, not just me, but the entire Atlanta Police Department family."
The Federal Aviation Administration (FAA) is investigating the crash.