Rezwan Ferdaus jailed for model plane Pentagon plot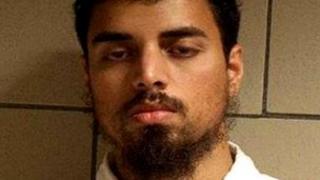 A US court has sentenced a man to 17 years in prison for plotting to attack the Pentagon and the US Capitol with model aircraft laden with explosives.
US citizen Rezwan Ferdaus, 27, was arrested after a sting operation in which agents posed as al-Qaeda members.
He pleaded guilty in July to attempting to supply materials to al-Qaeda, and seeking to damage US government buildings with explosives.
Under a plea deal, prosecutors agreed to drop four other charges.
Prosecutors said Ferdaus had been planning "jihad", or holy war, since 2010.
They also said he had plotted to use explosive devices detonated by mobile phones to target US soldiers in Iraq and Afghanistan.
In an FBI statement following the sentencing, First Assistant US Attorney Jack Pirozzolo described Ferdaus' actions as "self-initiated, deliberate and dangerous".
"He intended to unleash horrific acts of violence against the people of the United States both here and abroad," he said.
Ferdaus, born in Massachusetts to parents of Bangladeshi descent, is a physics graduate of Northeastern University in Boston.
In court on Thursday, he thanked his friends and family for supporting him, but offered no apology.
US District Judge Richard Stearns said Ferdaus' friends and family had sent letters of support suggesting that he had lived "90%" of his life in a positive way.
"Everyone noticed that there was a point when Mr Ferdaus' life turned darker," he said.
Outside court, his mother told reporters: "My son is innocent."
Ferdaus' sentence includes 10 years of supervised release. He could have faced 35 years without a plea deal.