Graham Spanier charged with Sandusky sex abuse cover up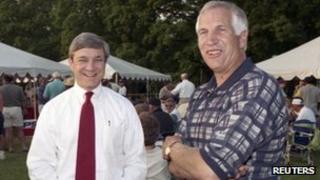 Pennsylvania State University's former president faces charges of covering up child abuse by a long-term football coach, says the attorney general.
Graham Spanier is the third official accused of protecting Jerry Sandusky, who was jailed for molesting boys.
The charges against Mr Spanier, 64, include perjury, obstruction, endangering children's welfare and failing to report abuse.
Sandusky's arrest in November 2011 prompted a crisis at the university.
At a court in Harrisburg, Pennsylvania, Attorney General Linda Kelly said: "This was not a mistake by these men. This was not an oversight. It was not misjudgement on their part.
"This was a conspiracy of silence by top officials to actively conceal the truth."
University administrators Timothy Curley and Gary Schultz were already accused of lying to the grand jury investigating the claims against Sandusky.
On Thursday, additional charges of endangering the welfare of children, obstruction and conspiracy were brought against them.
Ms Kelly alleged that the three university officials "knowingly testified falsely and failed to provide important information and evidence" about Sandusky.
Mr Curley and Mr Schultz insist they are innocent, while Mr Spanier's lawyers have said their client was not aware of anything suspicious about Sandusky's relationship with children.
But the grand jury report, included with the charges, said: "The actual harm realised by this wanton failure is staggering."
Sandusky was sentenced last month to between 30 and 60 years in prison.
He was convicted in June on 45 out of 48 counts of sexually abusing 10 boys over 15 years.
Sandusky molested boys he met through the Second Mile, a charity he founded for at-risk youth.
The trial heard that the boys were abused at Sandusky's home, in hotels and at Penn State athletic facilities.
Mr Spanier had been president of Penn State for 16 years when he was forced out after Sandusky's arrest.
Penn State was renowned in the US for its college football programme.