Shooting rocks California university Halloween party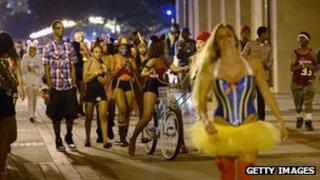 At least four people have been wounded in a shooting outside a Halloween party at the University of Southern California (USC), in Los Angeles.
University officials said the shooting happened as result of an argument between two people unconnected with the university.
One of the two was shot, along with three bystanders. Both were detained as they fled the scene.
The incident took place at 23:30 local time (06:30 GMT).
The campus was shut down but later reopened.
'Screaming and running'
After the shooting, witnesses reported a "mob of people" fleeing from the main campus building.
Matt Hamilton, a contributor to campus news outlet Neon Tommy, told the website he was among crowds of people trying to get into the party when he heard at least four shots in quick succession.
He said police came quickly, as there were already patrols on the campus.
"Everyone started running. I saw a guy who was shot in the leg. He was limping and screaming for his friends to help him," an unnamed witness said, quoted by the Los Angeles Times newspaper.
"People were screaming and running away."
USC's Department of Public Safety issued alerts asking students to stay away from the area, stay indoors and avoid opening the door to strangers.
In a statement later, USC student affairs vice president Michael Jackson warned students to be vigilant at social events, reminding them that only USC students and guests with student IDs were allowed at campus parties.
In 2008, USC sprinter Bryshon Nellum was shot in the leg three times at a Halloween party just off the campus.
He recovered and won a silver medal in the 4 x 400m relay at the London 2012 Olympics.
The latest shooting comes just months after 12 people were killed and 58 injured in a July shooting at a Batman film screening in Aurora, Colorado.