Mexican pleads guilty to Fast and Furious murder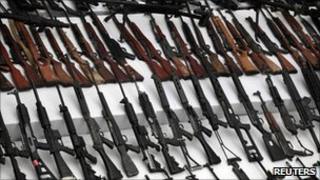 A Mexican man has pleaded guilty to the 2010 murder of a US border agent, whose killing was linked to the Fast and Furious gun-running sting operation.
Manuel Osorio-Arellanes could face life in prison for Brian Terry's murder.
Following a plea bargain, prosecutors will not seek the death penalty.
Weapons found at the shooting site were linked to Fast and Furious, which saw US agents allowing hundreds of guns to enter Mexico in the hope of tracking them to major arms dealers.
Manuel Osorio-Arellanes is one of five Mexican men arrested and charged with the shooting of Agent Terry.
Osorio-Arellanes said he had entered the US state of Arizona from Mexico in December 2010 with fellow gang members to rob traffickers crossing into the US of the drugs they were carrying.
On 14 December, Osorio-Arellanes and his gang engaged in a firefight with US border agents, in which Brian Terry was killed and Osorio-Arellanes injured.
Osorio-Arellanes was arrested that same night.
Two of the weapons found at the site of the firefight were traced to the Fast and Furious sting operation.
The operation led to no arrests and many of the smuggled guns were later found at crime scenes, causing outrage in both the US and Mexico.
A US Justice Department report has cited 14 people for possible disciplinary action for their roles in Fast and Furious.
Osorio-Arellanes is scheduled to be sentenced in January.